By Ashton Ellis
Wednesday, January 25 2012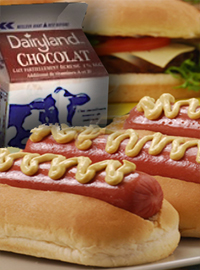 The biggest obstacle to success in L.A. Unified's failed food revolution is that those in charge never thought to consider whether the vast majority of children's taste buds actually enjoy the textures and flavors on the District's new lunch menu.
What happens when a herd of school lunch crusaders runs roughshod over the taste buds of 700,000 grade school students? In the Los Angeles Unified School District, the result has been thousands of lunches thrown away by dissatisfied students at a huge loss to taxpayers.
Not that everyone doing business with L.A. Unified is complaining. High-end food service providers enjoyed a spike in spending on fresh produce from $2 million to $10 million in one year. The Physicians Committee for Responsible Medicine liked the lunch menu's switch to adult-oriented health food so much it gave L.A. Unified a 2011 Golden Carrot Award. Federal officials attached to First Lady Michelle Obama's "Let's Move" campaign cheered. Even some high school students with unusually refined palates applauded the substitution of vegan fare for lunch room staples such as hamburgers and pizza. But as usual, the central planners didn't count on the one constituency that matters: the average consumer.
The experiment began simply enough. Like most do-gooders, David Binkle, L.A. Unified School District's Deputy Foodservice Director, bases his version of social engineering on an argument many people find appealing. In his case, it's health. Citing statistics that show childhood obesity rates increasing, Binkle warns that the best way to stave off a public health epidemic later on is to present kids with healthful lunch options now.
Last fall, L.A. Unified unveiled a revamped school lunch menu that sounded like the kind of fare discriminating foodies might find at Wolfgang Puck's Spago – beef jambalaya, pad Thai and veggie-filled tamales. In taste tests over the summer, Mark Baida, the District's executive chef, served up samples to handpicked students who peppered him with questions like whether the edamame was genetically modified, and would there be almond milk available. Overall, 70 percent of the student sample was satisfied with the new menu. Flushed with confirmation that their goal to make kids healthier would be a success, Binkle and Baida unleashed a social engineering experiment that was heralded nationwide as the first in a wave of school food revolutions.
Then they ran into three problems.
First, the District failed to replicate Baida's carefully prepared samples on a mass scale. Of the 650,000 meals L.A. Unified serves daily, 225,000 are created at the Newman Center, an industrial-strength (and staffed) school cafeteria located in downtown Los Angeles. As the meals become ready, they are shipped off to scores of the District's 658 K-12 campuses. Unsurprisingly, many of the dishes feature burned rice, soggy noodles or in some cases mold. It's hard enough to mass produce hamburgers and pizza on a scale sufficient to meet the needs of America's second largest school district. Trying to ensure that chilled salads and spicy varieties of Asian soup arrive at the appropriate temperature within hours of being made is downright foolhardy.
The second problem encountered by the District was its war on physical education. Over the last decade, the mandarins in charge of political correctness decided to ban the kinds of activities that help growing kids burn off just about anything they eat. The list of prohibited recreation includes dodge ball and athletics that administrators deem too competitive. Gym classes have given way to an emphasis on self-esteem and cultural awareness. Before the food czars shove more stale rice cakes at the kids, they should pursue another proven method for fighting obesity: athletically induced perspiration.
The biggest obstacle to success in L.A. Unified's failed food revolution is that those in charge never thought to consider whether the vast majority of children's taste buds actually enjoy the textures and flavors on the District's new lunch menu. Cherry picking students whose interests in edamame sound eerily like President Barack Obama's penchant for arugula is not a sufficient way to go about test-running a multi-million dollar change in the food supply.
The result of these failures was a 13 percent District-wide drop in school lunch purchases during the fall 2011 semester. The shortfall wreaked havoc on a budget already in deficit, and now burdened with increased spending on an investment that flopped. Of those students who have purchased meals, anecdotal evidence reported by the Los Angeles Times suggests that thousands of food items have been tossed unopened into trash bins every day. The amount of waste was so significant that the District began a donation program where students could put unused food on a marked cafeteria table. That program is flourishing, but the verdict is in – kids won't eat what they don't like.
The adults in charge seem to have gotten the message. Over the winter break, L.A. Unified announced it would bring back perennial favorites like pizza and hamburgers, albeit with whole grain bread and reduced fat sauces. So be it. As any parent could have predicted, you can lead a child to orange chicken, but you can't make him eat it.