By Ashton Ellis
Wednesday, May 09 2012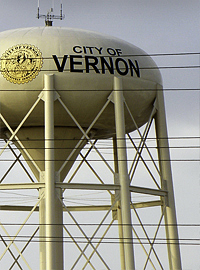 In page after page of its findings, the CalPERS audit criticizes Vernon's practice of submitting misleading job and compensation information to the pension fund that had the effect of incorrectly inflating the retirement benefits of top city administrators.
How's this for a Hollywood pitch?
A retired California city administrator drawing an annual public pension of $540,000 pleads guilty to misappropriation of funds.
His former associate tries to justify making $1.6 million in one year.
The crusading Speaker of the state assembly wants to abolish the city after fifty years of corruption, but the county government can't afford to take over.
The voters would care if only there were any. There are only 95 people in the City of Vernon.
Besides, the city owns all the houses and evicts those who challenge incumbents.
It would be a tragicomedy, except it gets worse.
Two years after investigative reporters at the Los Angeles Times discovered that former Vernon city administrator Bruce Malkenhorst was California's highest paid public pensioner – raking in over $540,000 a year in retirement after reaching a high of $911,000 toward the end of his career – the State of California seems finally ready to act.
Last week, the California Public Employees' Retirement System (CalPERS) released a year-long audit of information provided by the City of Vernon to verify the eligibility of certain current and former city workers who receive some of the highest public salaries and pensions in the entire state.
In page after page of its findings, the CalPERS audit criticizes Vernon's practice of submitting misleading job and compensation information to the pension fund that had the effect of incorrectly inflating the retirement benefits of top city administrators.
At one point, the audit reminds Vernon officials that "Only compensation earnable… can be reported to CalPERS and considered in calculating retirement benefits."
What kind of behavior would prompt such a remedial directive?
Among the corrupt practices used by Vernon officials, the most egregious was paying individuals up to six times for the same hour worked. For example, several top Vernon officials were paid for doing multiple full-time jobs even though by law any work outside of one full-time job is considered overtime and should not be reported to the state to calculate pension benefits.
To conceal the fraud, Vernon officials kept two sets of records. The internal set documented each full-time job an official was tasked with – which for some was up to six. Malkenhorst had ten.
By paying each multiply-employed official the entire salary of each job, annual compensation for people like Malkenhorst and former associate Eric T. Fresch was able to reach $911,000 and $1.6 million in a single year, respectively.
And since California's generous retirement plans for public employees calculate pension awards based on the highest grossing years, Malkenhorst, Fresch and other Vernon officials are able to pocket more than 50 percent of their inflated pay every year for the rest of their lives.
The ruse came to light when CalPERS compared Vernon's internal paystubs with the compensation amounts Vernon reported to the state. While Vernon's internal records revealed the scam, the city only sent CalPERS each employee's highest job title, but attached to it the entire amount of compensation tied to each job.
Some have rightly faulted CalPERS for failing to question paying supposedly public servants tens of thousands of dollars a month, but on the other hand, this is California. In the Golden State, no one goes broke while drawing a government paycheck.
John Perez, California's Assembly Speaker, has had enough. Though he represents Vernon in the legislature, he narrowly lost a state senate vote last year to abolish the city's legal status and make it an unincorporated part of Los Angeles County.
One constituency that opposed Perez's bill was the County Board of Supervisors. Members said that its own budget deficit coupled with Vernon's problems made taking on more responsibilities unfeasible.
What about Vernon's voters?
Three realities keep them quiet.
The first is population. With only 95 residents – most of whom work for either the city or one the 1,800 businesses located within city limits – almost none of them has an incentive to challenge the status quo.
The second is local politics. There were no city council elections between 1984 and 2006. When a seat became vacant, the mayor and council filled it by appointment, thus locking out any challengers.
Which helps explain the third problem: housing. The city owns all of it. When three people moved into an abandoned warehouse and filed to run for the city council, the city tried to evict them. The reason the activists chose a warehouse instead of a home was because Vernon reserves its living spaces for city politicians and friendly workers. Since residency within city limits is required to run for office, owning all the housing stock allows Vernon's corrupt officials to perpetuate their hold on power.
In explaining why he helped scuttle Perez's disincorporation bill, Vernon's State Senator Kevin De Leon promised to pressure the city to clean up its accounting or face elimination. So far, the city has adopted De Leon's reforms such as doubling the number of housing units and holding regular elections.
But more unquestionably needs to be done. With $4.1 billion in property tax value and an annual $325 million budget but no social services expenses, Vernon has nonetheless managed to spend its way into a huge deficit.
As Perez said when De Leon and others defeated his bill, "[those senators who voted against] will own the responsibility for any misdeeds that may occur in the future."
Until then, California's taxpayers will still be picking up the tab for whatever amounts CalPERS chooses not to slash from Vernon's fraudulent pensioners.
Welcome to La-La land.