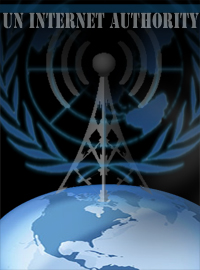 Hey, 'international control over the Internet' and 'monitoring and supervisory capabilities' to satisfy Vladimir Putin – what could possibly go wrong?
Think about the Internet.
Think about the United Nations (UN).
Now imagine the Internet under greater UN authority.
This week, a new Pew Research Center survey revealed that partisan polarization in America has reached a record high.
Accordingly, when 80% of Americans manage to unite in rare concordance against a proposal, that's reliable evidence that the idea in question is particularly odious. Fortunately, that degree of unity also provides a strong deterrent to any politician entertaining thoughts of supporting the proposal.
The issue in question is an emerging campaign from the likes of Russia, China and Arab nations to grant greater control over the Internet to the UN. Apparently, maligning Israel and safeguarding Syrian dictator Bashar al-Assad no longer keeps them sufficiently occupied. Nevertheless, an array of rarely harmonious political leaders and American companies including Microsoft, Google and Verizon agreed that the proposal creates myriad economic, free speech and human rights threats.
In Dubai this coming December, member nations of the UN's International Telecommunications Union (ITU) will convene the World Conference on International Telecommunications in order to revisit a communications accord established in 1988. Various governments claim that the accord should be revised in light of Internet development since that time, and ITU Secretary General Hamadoun Toure said last month that, "So much has changed since the 1988 revisions, so the global policy and regulatory framework needs to be updated." In anticipation of that gathering, Russia and China have led an effort to create a new "information security" system and forge a replacement to (ICANN), the nonprofit association that has coordinated the Domain Name System and Internet Protocal (IP) addresses since its nascency in the 1990s.
Lest one dismiss this issue as existing only in the paranoid realm of black helicopters or JFK conspiracy theories, consider the words of Vladimir Putin to the ITU's Mr. Toure:
"The International Telecommunications Union is one of the oldest international organizations. It's twice as old as the United Nations. Russia was one of its co-founders, and intends to be an active member. We are thankful to you for the ideas that you have proposed for discussion. One of them is establishing international control over the Internet using the monitoring and supervisory capabilities of the International Telecommunications Union. If we are going to talk about the democratization of international relations, I think a critical sphere is information exchange and global control over such exchange. This is certainly a priority on the international agenda." (Emphasis Added)
Hey, "international control over the Internet" and "monitoring and supervisory capabilities" to satisfy Vladimir Putin – what could possibly go wrong?
For its part, China reportedly proposed new technical standards to the ITU in 2008 that would trace the origin of Internet communications and "identify the source of the negative articles" by anonymous posters.
And just last autumn, a joint letter from Russia, China, Uzbekistan and Tajikistan to the UN proposed a new "international code of conduct" in order to create "norms and rules guiding the behavior" of Internet oversight, and an alliance of Arab governments sought empowerment to "take measures to ensure that fair compensation is received" for the passage of Internet traffic.
According to Commissioner Robert McDowell of the Federal Communications Commission (FCC), "The threats are real and not imagined, although they admittedly sound like the works of fiction at times." He added that he has heard various foreign government officials propose to "use international mandates to charge certain Web destinations on a 'per-click' basis to fund the buildout of broadband infrastructure across the globe," and that, "Google, iTunes, Facebook and Netflix are mentioned most often as prime sources of funding."
Thankfully, the American public is having none of it.
As reported in a Rasmussen poll this week, "Russia, China and several Arab countries are pushing for international control of the Internet through the United Nations, but U.S. voters overwhelmingly oppose the idea." An 80% to 5% margin (with 15% undecided) responded negatively to the question, "Should an agency of the United Nations be given the authority to regulate the Internet?"
Ronald Reagan, who left us eight years ago this week, wisely observed that, "freedom is never more than one generation away from extinction." The current generation remains vigilant, at least on some issues, for now.