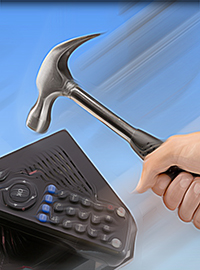 [T]his constitutes a needless intrusion into a sector characterized by competition and innovation.
According to that rueful Japanese proverb, "The nail that sticks out gets hammered down."
And so it is with the U.S. technology sector and federal regulators' efforts to target it. More specifically, the Federal Communications Commission (FCC) has its sights set on the thriving video entertainment sector.
Ask yourself: Is there any realm of contemporary life that better symbolizes private sector innovation, choice, affordability and enjoyment?
Few, if any, come immediately to mind. The sheer variety and quality of our video entertainment choices expand on literally a daily basis, and today the average American enjoys options unavailable to even the wealthiest Americans a mere fortnight ago.
Unfortunately, federal regulators remain less interested in what happens to work in the marketplace than they are in targeting and subduing private sector fecundity that remains beyond its regulatory bridle. Making matters worse, that habitual intolerance is only intensified as Obama Administration officials scramble to extend their authority to every conceivable aspect of American life before their time expires less than a year from now.
The latest manifestation is a new initiative from Obama's overactive FCC to impose a one-size-fits-all mandate to make cable television set-top boxes artificially compatible with third-party entertainment devices. In other words, even as cable companies themselves are voluntarily moving in the direction of abandoning traditional cable boxes and toward devices owned and maintained by individual customers as they choose, the FCC wants to impose 1990s-style regulation on the industry. That would essentially freeze in place the increasingly outdated model of set-top cable boxes even as it becomes increasingly anachronistic on its own.
Even the FCC's notice of proposed rulemaking, which attempts to muddle its intent in legalese and bureauspeak, betrays an image of a federal bureaucracy seeking to impose a "solution" to a non-existent problem:
"In this proceeding, we propose rules that will both empower consumers to choose how they wish to access the multichannel video programming to which they subscribe, and promote innovation in the display, selection, and use of this programming and of other video programming available to consumers. We take steps to fulfill our obligation under Section 629 of the Communications Act to assure a commercial market for devices that can access multichannel video programming and other services offered over multichannel video programming systems. In the Notice of Proposed Rulemaking, we propose rules intended to allow consumer electronics manufacturers, innovators, and other developers to build devices or software solutions that can navigate the universe of multichannel video programming with a competitive user interface."
Note the shameless way in which the FCC uses the phrases "empower consumers to choose" and "allow consumer electronics manufacturers" to rationalize their latest intrusion into an already functioning marketplace. As if federal bureaucracies are known for their ability to "empower" consumers or "allow" manufacturers, rather than for their record of precisely the opposite?
Regardless, this constitutes a needless intrusion into a sector characterized by competition and innovation.
Making matters even more disturbing is the crony capitalist angle to this unnecessary initiative. Specifically, as The Wall Street Journal's Holman Jenkins incisively noted this week, the intrusive hand of Google looms:
"So clueless is the FCC, while still under such Democratic pressure to be 'activist,' that the agency has been reduced to playing handmaiden to whichever Obama ally is handiest. In the cable box case, that's Google, which is badly trailing Netflix, Amazon, Apple, HBO, Hulu and others in the premium over-the-top TV race. Google lobbied for the cable box rule so it can insert itself between you and your cable supplier, to capture information about what you're watching and sell ads against it. On TV, Google has become the thing that Google most shouldn't want to be - a backward-looking opponent to free innovation. No wonder Google increasingly finds a friend in the FCC."
So there you have it. A confluence of regulatory overreach, technology sclerosis and crony capitalism, the trifecta of Obama Administration hubris.
Fortunately, a bipartisan Congressional consensus, the innovation community, consumer groups and broad market coalition oppose this latest FCC overreach. As the clock runs out on the Obama Administration, it's obvious that it won't fade cooperatively into history. But whether at the judicial, legislative or administrative level, growing numbers of Americans stand ready to halt its corrosive malfeasance.