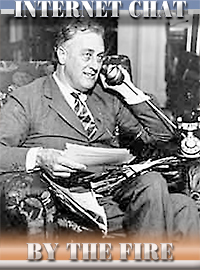 Memo to the FCC and Chairman Julius Genachowski: Retro may be camp and trendy these days, but it's no sound strategy for forward-thinking sectors like broadband Internet service.
A lot has changed since that not-so-halcyon year 1934.
So why are the Federal Communications Commission (FCC) and "Net Neutrality" advocates attempting to regulate the Internet under laws drafted for the technology of that era?
In 1934, World War I was not yet known as "World War I." A short film featuring The Three Stooges made its debut. The first soap box derby was held. Germany and its quirky mustachioed chancellor Adolf Hitler signed a non-aggression treaty with neighboring Poland, while the young Soviet Union joined the League of Nations.
Elvis Presley, Jerry Lee Lewis and Donald Sutherland wouldn't be born for another year. That cumbersome dinosaur we now know as Social Security did not even exist.
Meanwhile, the fledgling Roosevelt Administration, in its first full year in office, expected to make short work of the nation's economic slump with a hubristic frenzy of government activity. Instead, what became the Great Depression festered through the end of the decade, prolonged by the very bureaucratic policies devised to end it. As part of that hubristic frenzy, the FCC was created June 19, 1934 as a successor to the Federal Radio Commission.
As if to outlandishly celebrate its 76th birthday this week, the FCC voted along partisan lines to begin the process of imposing "Net Neutrality" regulations by grossly reclassifying Internet service under Depression-era regulations established for landline telephones of the 1930s.
Memo to the FCC and Chairman Julius Genachowski: Retro may be camp and trendy these days, but it's no sound strategy for forward-thinking sectors like broadband Internet service.
Of course, one can sympathize with Chairman Genachowski and his fellow "Net Neutrality" fanatics. After all, their effort to reclassify the Internet under antiquated telephone regulations is merely a fallback strategy. It became their desperation "Plan B" after a unanimous D.C. Court of Appeals ruled this spring that the FCC did not possess authority to impose "Net Neutrality" regulations over Internet service.
Chairman Genachowski and "Net Neutrality" advocates, however, weren't going to let a ruling from the nation's second-most prestigious court deter them.
So they concocted the idea of simply classifying the Internet as a telephone service to achieve their goal of "Net Neutrality" nirvana.
The FCC's brazen scheme contradicts the 1996 Telecommunications Act, as well as longstanding bipartisan Internet policy spanning both the Clinton and Bush administrations. This is why almost 250 Democrats and Republicans in Congress wrote separate letters to the FCC expressing opposition to this reclassification ploy.
Those letters correctly note that the FCC's effort to impose "Net Neutrality" through the backdoor will undermine the tens of billions of dollars in private broadband investment, which have in turn created innumerable jobs and made Internet service the most transformative and innovative sector in our modern economy. The Democrat lawmakers wrote, in part:
"The expanded FCC jurisdiction over broadband that has been proposed, and the manner in which it would be implemented, are unprecedented and create regulatory uncertainty. The controversy surrounding that approach will likely serve as a distraction from what should be our nation's foremost communications priority: bringing broadband to every corner of America, getting every American online, and providing the high speed connections needed to realize the promises of telemedicine, distance learning, and other forms of consumer empowerment.
"The continued deployment and adoption of broadband, the growing importance of the Internet to our constituents, and the significant contributions this will make to our economy should be the FCC's primary focus right now. The uncertainty this proposal creates will jeopardize jobs and deter needed investment for years to come. The significant regulatory impact of reclassifying broadband service is not something that should be taken lightly, and should not be done without additional direction from Congress."
Fortunately, Representative Marsha Blackburn (R-TN) has introduced legislation that would prohibit the FCC's transparent scheme. Her bill, H.R. 3924, would simply codify the D.C. Court of Appeals ruling that any authority to impose such drastic regulations properly lies with the legislative branch, not the unelected bureaucrats at the FCC.
We live in a period of economic turbulence, job loss and international competition. "Net Neutrality" would only exacerbate those difficulties by undercutting private investment, broadband expansion and tech sector employment.
As Representative Blackburn states, we must "ensure our legislative body has final say on the issue, not bureaucrats at the FCC."