By Ashton Ellis
Thursday, October 04 2012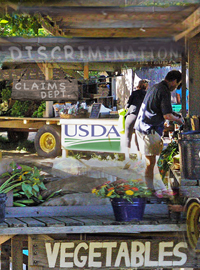 What Vilsack did instead was implement an agenda that has funneled billions of taxpayer money to pay for unproven allegations of discrimination.
The latest billion-dollar giveaway for unproven discrimination at the United States Department of Agriculture was recently announced by Secretary Tom Vilsack. The $1.33 billion settlement with Hispanic and women farmers is part of Vilsack's "new era of civil rights" at USDA that is robbing taxpayers of their day in court.
"The opening of this claims process is part of USDA's ongoing efforts to correct the wrongs of the past and ensure fair treatment to all current and future customers," Vilsack said in a press release.
The settlement for Hispanic and women farmers continues a policy Vilsack began in April 2009 to establish a "new era of civil rights" at USDA. According to the USDA website, Vilsack instituted a policy of "zero tolerance for any form of discrimination" and instituted a "comprehensive program to improve USDA's record on civil rights…"
What Vilsack did instead was implement an agenda that has funneled billions of taxpayer money to pay for unproven allegations of discrimination.
USDA's "ongoing efforts" include settlements for alleged discrimination of $1 billion in 2000 and $1.25 billion in 2010 to black farmers, as well as a $760 million settlement with Native Americans, also in 2010. The $1.33 billion settlement fund for Hispanic and women farmers brings the total USDA payout to $4.34 billion, with all but the first billion coming during Vilsack's tenure.
The settlements are commonly referred to by their case names: Pigford I and Pigford II for black farmers, Keepseagle for Native Americans and Garcia for the consolidated Hispanic and women farmer cases.
All of the settlements arose out of lawsuits claiming discrimination when USDA officials denied farm loans to members of protected classes. But not one of the litigants in any of these lawsuits has ever submitted their evidence to a jury of their peers. Instead, every person eligible under the terms of one of these USDA settlements is rerouted into a claims process that tilts heavily in favor of making lump sum payments with few questions asked.
USDA's taxpayer-funded giveaway began in 2000 when under the Clinton Administration black farmers alleging discrimination were given a settlement option that virtually guaranteed a lump sum payment of $50,000 to any black farmer who had been denied a USDA farm loan in the previous twenty years (Pigford I).
Some supporters of the easy payout criteria were explicit that the program was really about reparations for slavery, not actual USDA discrimination. Indeed, the federal judge who presided over the settlement began his enforcement order by referencing "forty acres and a mule…"
The spending spree continued in 2008 when Congress authorized an additional $100 million to settle claims with black farmers who failed to make a claim under Pigford I on time. In 2010, Congress approved another $1.15 billion to fund the Pigford II settlement sought and negotiated by Vilsack and Attorney General Eric Holder.
By that point, lawyers practicing jackpot justice saw opportunity and quickly landed a settlement for Native Americans farmers for $760 million, also without having to produce actual proof of discrimination to a jury. The gravy train seemed destined to include Hispanic and women litigants until the 2010 midterm elections put an end to the Democrats' control of Congress.
That, coupled with the federal court system's denial of class action status to Hispanic and women farmers, meant that members of two powerful blocs in the Democratic Party were left out of USDA's newly minted spoils system.
So Secretary Vilsack took matters into his own hands and began the process of rerouting doomed lawsuits into a more friendly forum where he could play the part of judge and jury.
The result has been a $3.3 billion boondoggle that lets one man's bloated sense of justice trump fairness to taxpayers.