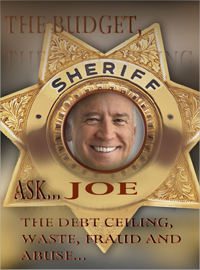 If you want to know what he's [President Obama] thinking about the budget or the debt ceiling, ask…Joe Biden.
Say it ain't so, but with Vice President Joe Biden being tasked with negotiating a debt ceiling deal and yet another crusade against "waste, fraud and abuse" in government, one has to wonder: Is Biden acting more presidential than his titular boss?
Consider the authority President Barack Obama has delegated to Biden since coming into office.
In a little over two years, "Sheriff Joe" has been asked to police "waste, fraud and abuse," first with money spent from the stimulus-bust Economic Recovery Act, and now with all agencies within the federal bureaucracy.
Biden was also the administration's point man for negotiating a budget deal with House Republicans earlier this year that resulted in a significant reduction in the amount of spending cuts Tea Party-backed freshmen demanded.
Currently, Biden is moderating a select committee of six congressional leaders (4 Democrats, 2 Republicans) to create at least $1 trillion in "deficit reduction" (note the wiggle room for tax increases) as a way to smooth passage for raising the debt ceiling later this summer.
Though Biden is prone to gaffes like falling asleep during a presidential speech or uttering a congratulatory obscenity within range of a hot microphone, he's earning the respect of peers like House Majority Leader Eric Cantor (R-VA). One of two Republicans in the debt ceiling negotiations along with Senator Jon Kyl (R-AZ), Cantor praises Biden's evenhanded approach as "keeping politics and ideology out of the discussion."
Congeniality aside, Biden's past performance has been a train wreck for fiscal responsibility.
The biggest stain on Biden's record as a government watchdog was lifted directly from the Recovery.com website. A report by the Franklin Center for Government & Public Integrity showed 440 "phantom congressional districts" consuming $6.4 billion in stimulus money and creating or saving around 30,000 fictional jobs. For his part, Biden continues to claim that he found fraud in only $3 million of the $480 billion in contracts, grants and loans doled out under the Recovery Act. Note to Joe: That's the wrong kind of oversight.
Another strike against Biden – at least from a fiscal conservative's perspective – came when he negotiated House Republicans into agreeing to only $38.5 billion in current year spending cuts after the House voted to cut $61 billion (itself a retreat from the $100 billion pledge made during the 2010 campaign). Since then, it has come to light that the Democratic cuts Biden championed were mostly cost shifts and one-time spending freezes, thus lowering the real value of the deal even lower than advertised.
A liberal's liberal, so far Biden has kept taxpayer money flowing despite the growing influence of tax-and-spend hawks in both the Congress and the country's electorate. That track record for thumb-in-the-eye success must be why on June 13, Obama again handed Biden a mandate to root out "waste, fraud and abuse" – this time from all areas of the federal government. No doubt "Sheriff Joe" (as Biden likes to call himself) will saddle up for another dog-and-pony show that will probably shave millions in expenditures, but leave untouched the billions, indeed trillions necessary to reduce America's budgetary imbalance.
At least Joe Biden can account for the time he's spent in office. His boss is another story.
In almost every major crisis of his presidency, President Obama has looked like a man unprepared for the serious work of governing a nation. He dithered for months about what to do in Afghanistan. He ordered people to "plug the damn hole" during the BP Gulf Oil Spill, but refused to establish a clear chain-of-command. He sat on the sidelines when Congress wrote and passed ObamaCare, and played the part of a spectator when the Middle East began its "Arab Spring." His rationale for attacking Libya but not Syria is nonsensical, and if you want to know what he's thinking about the budget or the debt ceiling, ask…Joe Biden.
Whenever he writes his memoirs, I fully expect Biden to claim credit for killing Osama bin Laden and just about any other achievement of the Obama Administration. Prior to his being sworn-in as Vice President, such claims would have been laughable. But as his tenure in office is showing, perhaps Ole' Joe is getting a lot more out of his day job than the man who employs him.