By Troy Senik
Thursday, November 08 2012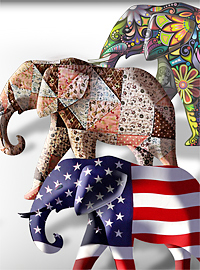 Terraforming the political landscape to make it habitable for Republicans, however, is not a process that will take place as the result of natural laws. It will require a concerted effort from the GOP.
Barack Obama, it turns out, is not magic. That was the opening I had prepared for a column announcing Mitt Romney's defeat of the 44th president, but it turns out that it applies equally – and perhaps more menacingly – to the reality of Obama being reelected with surprising ease on Tuesday night. Obama's not magic. He's just a very good politician.
For the past four years, conservatives have comforted themselves with the thought that the 2008 campaign was sui generis, a perfect storm of electoral headwinds unlikely ever to be replicated.
Beyond public dissatisfaction with the presidency of George W. Bush and the torpor of John McCain's campaign, they reasoned, Obama had the advantage of being able to engage in a con that, by its very nature, only works once: pretending to be everything to everyone. It's easy to expand the electoral map when everyone thinks you agree with them. But burdened with the record of a first term, this argument went, Obama would no longer be able to pass himself off as anything other than a doctrinaire liberal out of step with a center-right nation. He would no longer be magic.
That was the argument anyway. And, by the way, I was one of the scores of pundits who made it.
Tuesday's results don't quite invalidate that reading of the electorate so much as render it irrelevant. Mitt Romney did indeed defeat Obama among independents, with the president suffering a seven-point slide in his performance with unaffiliated voters compared to 2008. But that reduction was more than offset by strong support for the incumbent from a Democratic base swelled by African-Americans, Hispanics, Asians and single women. With that coalition 's support, Obama miraculously managed to win reelection in a nation that only 46 percent of the electorate thought was on the right track. By virtue of those groups casting their lot with Democrats, this turned out to be a campaign that did not turn on the fundamentals of the nation's trajectory.
For Republicans, instantly gripped by a sense that they had managed to snatch defeat from the jaws of victory, this has occasioned a predictable panic attack. Al Cardenas, head of the influential American Conservative Union, put into words what party poobahs throughout the nation were thinking when he told Politico that the GOP had become "too old and too white and too male." Left unspoken was that Romney – who often came off as a colorized version of a 1950s sitcom father – was the ne plus ultra of this trend.
It's not time for the GOP brass to drink the hemlock just yet, however. Political coalitions are inherently malleable. There was a time when the Republican Party had a virtual lock on black voters, just as Democrats once controlled the South. Ronald Reagan famously plundered FDR's New Deal coalition in order to create the political creature known as a "Reagan Democrat." Demographic changes – even if we grant the assumption that they will continue linearly – need not be destiny.
Terraforming the political landscape to make it habitable for Republicans, however, is not a process that will take place as the result of natural laws. It will require a concerted effort from the GOP. And that's where a considerable tension has to be resolved.
Part of the Republican Party's failure to make inroads with groups that have tilted heavily towards Obama lies within the intellectual precepts of conservatism itself. The movement prides itself on equality before the law – the notion that a truly just society treats all citizens the same regardless of race, class, gender or age. Thus, when it comes to talk of appealing to minority groups, many conservatives immediately blanche because they think they are being implored to pander, offering legal carve-outs as quid pro quos for support at the ballot box.
This impulse is understandable given that pandering is precisely the device by which Democrats have approached many of these groups. African-Americans are lured in by support for affirmative action and claims that voter identification laws are intrinsically racist. Hispanics are wooed with promises of amnesty for illegal immigrants. Unmarried women are cultivated through promises of free contraception. As election time nears, Democrats fill the stockings of those constituencies and then await their gratitude at the ballot box.
Republicans are right to resist this naked opportunism, not only because it violates their principles, but also because they'll never beat Democrats at the patronage game. Too often, however, their response has been to argue that conservative principles benefit everyone, and thus the scales will eventually fall from the eyes of minority voters, all of whom will immediately begin booking seats for the nearest Lincoln Day dinner. This is, to put it generously, absurd. Awaiting the cessation of false consciousness is not an electoral strategy.
When it comes to minorities, the GOP needs to go back to politics 101: Start by making an effort.
Head to blighted black neighborhoods like inner-city Detroit, where urban liberalism has turned a once-great city into a third-world slum, and make the case for economic opportunity that will stem the tide of poverty and law enforcement that will keep the streets safe.
Visit struggling Latino schools beset by bureaucracy and shameless union power and advocate for empowering parents and students through charter status and school choice.
Cultivate America's bumper crop of Asian graduate students by letting them know that you favor immigration policies that ensure they put their education to use on American soil rather than returning home immediately after graduation.
Bring those people into the conversation. And force them to confront how little the liberal status quo has benefitted them.
This is not pandering. This is simply telling people why their lives will be better if they vote for you. It is electioneering at its most basic. It is consistent with conservative principles. And it is long overdue.