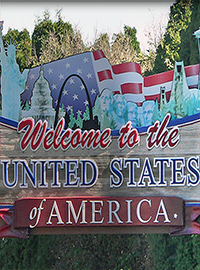 [W]hile leftists constantly profess a desire to move elsewhere, they conspicuously don't make good on their rhetoric.
From the moment a Trump presidency became a realistic possibility, preening leftists have been promising to depart for France or similarly enlightened locales.
So why is the French government resorting to bribes to entice them to follow through?
Following President Trump's announcement that the U.S. will withdraw from the Paris climate treaty, the French government now seeks applicants for four-year grants to "come to France to fight climate change," courtesy of French taxpayers. They've even launched a website entitled "Make Our Planet Great Again" to walk applicants through France's work visa and residency permit process:
You will be able to stay in France at least for the duration of the grant, and longer if you are granted a permanent position. There is no restriction on your husband/wife working in France. If you have children, note that French public schools are free, and the tuition fees of universities and 'grandes ecoles' are very low compared to the American system.
New French president Emmanuel Macron offered a similarly snarky yet needy invitation:
To all scientists, engineers, entrepreneurs, responsible citizens who were disappointed by the decision of the president of the United States, I want to say that they will find in France a second homeland. I call on them, come and work here with us to work together on concrete solutions for our climate, our environment. I can assure you France will not give up the fight.
When an alleged dream destination like France resorts to subsidies and transparently desperate invitations, the dissonance between reality and the left's rhetoric is no longer avoidable.
The simple truth is that even leftists understand that America remains far preferable to life in European counterparts, as do Europeans themselves. As Merle Haggard sang in "Fightin' Side of Me," they love our milk and honey, but they preach about some better way of living. Just as in the 1960s, they vote with their feet by remaining right here in the United States.
And that's not subjective sloganeering. Scientific data from sources including Gallup and the left-leaning Pew Research Center confirm those hard truths for the "resistance" political left.
Just this week, Gallup released its periodic analysis of worldwide migration preferences under the headline "Number of Potential Migrants Worldwide Tops 700 Million." It found that after a dip during the global recessionary years, people's desire to migrate rebounded between 2013 and 2016. Today, some 14% of worldwide adults, which amounts to 710 million people, express a desire to relocate to another country if they were able to do so. That's up from approximately 630 million between 2010 and 2012.
Here's where the data becomes particularly discordant for the Europhile political left. The United States remains, by far, the top desired destination for those potential migrants:
The U.S. continues to be the most desired destination country for potential migrants, as it has since Gallup started tracking these patterns. One in five potential migrants (21%) - or about 147 million adults worldwide - name the U.S. as their desired future residence. Germany, Canada, the United Kingdom, France, Australia and Saudi Arabia appeal to at least 25 million adults each.
So the U.S. remains the top potential destination at 21%, with Germany trailing far behind at 6%, then Canada, the United Kingdom and France at 5%.
No wonder France and President Macron find it necessary to put on the hard sell and offer bribes for Americans to move there.
Meanwhile, the Pew Research Center offers an interactive worldwide map showing migrant flows to and from each county. This user-friendly tool allows visitors to click on any two countries at a time, and compare how many have migrated from one to the other.
The results are eye-opening, especially for anyone subjected to the constant barrage of suggestions that Scandinavian or European nations offer some sort of socialist utopia. The number of people choosing to migrate from Denmark, Norway, Sweden and Finland to the U.S. far exceeds the number of Americans who migrate to any of those countries. And considering America's far higher overall population, a per capita comparison of migration reveals an even sharper disparity.
The same is true for France, Germany, the United Kingdom and Canada, for that matter. Far more people from those nations opt for life in the U.S. than vice-versa.
So while leftists constantly profess a desire to move elsewhere, they conspicuously don't make good on their rhetoric. It's not as if anyone is preventing them from escaping, a la Cuba or East Germany. And unlike France, the U.S. doesn't offer bribes or a president practically begging Frenchmen or Germans to move here.
So the next time you hear an American claiming a readiness to leave, let them know that millions of people, including Europeans, would gladly take their place here.