By Ashton Ellis
Thursday, September 16 2010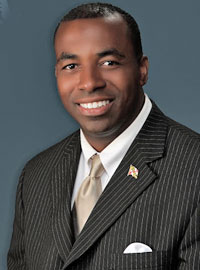 Lollar is spreading his enthusiasm for constitutional government, one voter at a time.
Charles Lollar, the newly minted Republican nominee for Maryland's fifth congressional district, aims to flip House Majority Leader Steny Hoyer's seat to the GOP column. To do it, he's brewing up a heavy dose of Tea Party flavored issues that, so far, are delighting GOP voters.
Of course, not all Tea Party-themed candidates are proving as successful at bridging the gap between the conservative grassroots and the Republican Party establishment. On the same night Lollar clinched his primary win, Delaware Republicans elevated perennial candidate Christine O'Donnell over GOP insider Mike Castle. Castle, a former governor and long serving member of Congress, picked the wrong year to be considered one of the most liberal House Republicans. Ready or not, O'Donnell must prove that she can maintain her Tea Party credentials while picking up the kind of establishment support necessary to win an election in the mid-Atlantic.
Achieving that balance won't be a problem for Lollar. A Major in the Marine Corps Reserves and a small business executive, he is a fixture at Maryland and Washington, D.C., area Tea Party events. He wowed the crowd at Freedom Works' August 27th grassroots activism meeting with a clear command of his ideas and delivery. He knows how to speak in memorable sound bites, and he is unafraid to embrace the full spectrum of limited government conservatism. In any other year, Lollar would be considered a down-the-line conservative candidate. In today's anti-spending, anti-incumbent atmosphere, he's a radical.
Part of what enables Lollar to move so freely between the Tea Party and GOP is that he's running for a seat that many political observers consider safe for Democrats. And for good reason. On primary night, Democrat voters in the fifth district turned out more than 2:1 over Republicans. Rather than interpreting those numbers as proof that he needs to plot a middle-of-the-road, least-offensive-to-all-involved course, Lollar sees a different opportunity. "People want a government leader who looks at the Constitution before voting. America wants people with principles, not positions."
One of the ways Lollar is countering the Democrats' registration advantage is with a spirited campaign into the heart of Democratic territory. He is pushing hard for endorsements from local politicians and Democratic Central Committee members. "People value seniority, but the voters of our district have to ask themselves, 'What have I gotten with Steny Hoyer's 29 years in Congress?' The answer is, 'Not much.'"
That's been especially true since President Barack Obama won the presidency, giving Democrats complete control of the executive and legislative branches for the last two years. According to Lollar, Hoyer let his duties as House Majority Leader conflict with the wishes of his constituency. "He came to a town hall meeting about health care reform and didn't listen to a word anybody said against it. Steny has become aristocratic in the way he treats the voters," doing what his colleagues in Washington, D.C., want instead of representing the people in the fifth district.
Though Lollar doesn't focus on his race, he does acknowledge that being a conservative black Republican presents challenges for Hoyer and others in the Democratic establishment. "I've heard rumors that I'm their least favorite candidate to face in November." Maybe it's got something to do with Lollar laughing at accusations that Tea Party members are racist just because they demand constitutionally limited government. Lollar, like other black conservatives, is an inconvenient refutation of such outrageous claims.
So far, Lollar's positive campaign is working. Moments after he was declared the Republican nominee, he shared his victory with one of his defeated primary opponents. In return, the challenger endorsed Lollar and promised to help make the general election about the future of America, not just Hoyer's three-decade hold on power.
Though his $200,000 in fundraising pales in comparison to Hoyer's $3 million war chest, Lollar is banking on increased attention from conservatives looking for a two-for-one return on investment come November. Helping him beat Hoyer not only flips a seat, it also removes one of the most effective legislators in the Democrat Party.
In the meantime, Lollar is spreading his enthusiasm for constitutional government, one voter at a time.