By Ashton Ellis
Thursday, May 23 2013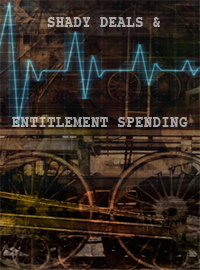 So far, the biggest train wreck on the road to implementation has been the empty promises made about the state-based health insurance exchanges.
With the 2014 midterm elections coming into view, ObamaCare is poised to become one of the biggest issues in the campaign. But while Republicans hope to make gains in Congress, Democrats will target states whose voters might be willing to bypass their legislatures to accept one of the health law's costliest programs.
The outcomes of these two strategies could well determine the future growth of entitlement spending.
Senate Minority Leader Mitch McConnell (R-KY) and other Republicans in Congress are looking forward to next year's midterms as a possible referendum on ObamaCare. "If I were predicting what's likely to be the biggest issue in the 2014 election, I think it would be ObamaCare," McConnell said on Meet the Press last Sunday. "I think it's coming back big-time."
No wonder.
After Mitt Romney, the GOP's 2012 presidential nominee, set aside the party's powerful anti-ObamaCare cudgel in order to deflect comparisons between President Barack Obama's controversial health law and his own attempt to mandate broader insurance coverage in Massachusetts (i.e., "RomneyCare"), Republicans are ready to capitalize on the law's snowballing collection of glitches, gaps and gaffes the next time voters go to the polls.
So far, the biggest train wreck on the road to implementation has been the empty promises made about the state-based health insurance exchanges. Since the beginning of the year it has come to light that a "family glitch" will make health insurance for middle class families unaffordable, even with federal subsidies. As written, ObamaCare also creates gaps in coverage that hit part-time workers and the working poor hardest, requiring states to sew on patches at greater expense. More "bumps in the road" are "inevitable," says the President who promised that no one's current standard of care would be affected.
Going into the midterms, McConnell's strategy is simple. By running against ObamaCare in 2010, Republicans won control of the House of Representatives. Between October 2013 and October 2014, Americans will have lived a full year under the problematic health law that is guaranteed to increase health prices. With a rising tide of anger at their backs, Republicans have good reason to hope for another 2010-like wave election, this time in the Senate.
But a high-powered network of Democratic operatives is already strategizing a way to undercut another Republican tsunami into Washington, D.C., as first reported by Politico.
The goal is to convince a majority of voters in states that are refusing to expand Medicaid to override their governors and legislatures.
The strategy calls for changing the subject in order to reframe the debate over ObamaCare. Rather than dispute Republicans' criticisms about the insurance exchanges, Democrats will shift the focus to expanding Medicaid, the federal-state health insurance program for the poor.
Typically, Republicans do better when the debate is over cost and value, while Democrats favor highlighting the impact of welfare programs on particular groups. What makes Medicaid expansion potentially potent is the way its supporters are pitching it.
Under its terms, the health law offers a deal its authors thought states couldn't refuse: Increase eligibility for state residents up to138 percent of the federal poverty limit, and the federal government will pick up the tab for the first three years (2014-17).
After that, federal payments will decline to 90 percent per year, with the states forced to cover the remainder. But even with state-equivalent of a 10 percent co-pay, the collective bill for increasing Medicaid could top $3.4 billion per year, according to an analysis by the Heritage Foundation.
Though big-spending governments in reliably blue states like New York, California and Illinois have already jumped at the chance to inflate their entitlement rolls with federal tax dollars, Republican governors and legislatures have tended to balk.
Thus, influential states like Pennsylvania, Florida and Texas will not be expanding Medicaid, depriving ObamaCare's architects of millions of the enrollees they could otherwise claim to benefit.
Of course, by rejecting the expansion, these states and others that are refusing are also protecting taxpayers from larger budget deficits, higher taxes or, more likely, both, not to mention other Medicaid issues.
From the liberal perspective, the solution to this problem of prudence is to qualify pro-Medicaid expansion ballot initiatives in as many states as possible ahead of the 2014 election.
Once qualified, pro-ObamaCare advocacy groups can flood the air- and radio-waves with a classic liberal sales pitch: Advertisements claiming to get something (health insurance for the poor) for nothing ("free" federal tax dollars).
Thus, at the very same time Republicans will be hitting ObamaCare hard for its failures to provide affordable health insurance for middle-class families, Democrats will be pitching voters the idea of "free" health insurance for the poor.
If both sides achieve their goals, Democrats will win even if they lose the Senate and with it, Congress. Once an entitlement program is created, history shows it won't be ended.
While Republicans should certainly spend a large part of their energies trying to win control of Congress so they can better oppose the Obama administration, they cannot fail to beat back a misinformation campaign designed to expand the entitlement state.