By Ashton Ellis
Monday, January 11 2010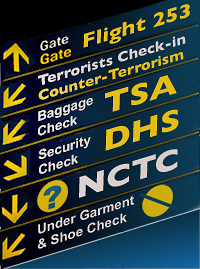 If the president truly wants to prevent a similar lapse in screening in the future, he needs to untangle the security community's crisscrossed lines of responsibility.
One of the best reasons to oppose the expansion of government is that it often leads to overlapping responsibilities. Duplicate enough of the work, and it becomes nearly impossible to figure out who's in charge. Maybe that's why President Barack Obama announced that "the buck stops" with him after a would-be suicide bomber bypassed airport security on Christmas Day, but then said no one would be fired. Surely, he wouldn't fire himself. But saying the buck stops at his desk doesn't shed light on where it started, or why it's being passed around like a hot potato. If the president truly wants to prevent a similar lapse in screening in the future, he needs to untangle the security community's crisscrossed lines of responsibility.
It won't be easy. There are at least three positions vying for "not it" status. The most obvious is the Transportation Security Administration (TSA). These are the folks that frisk your bags, wand your body, and occasionally leave pre-printed cards letting you know they snuck a peak in your checked luggage. On the day the "undie-bomber" took his seat, this federal agency was under the direction of an interim administrator. According to Democrats, had President Obama's nominee Erroll Southers been in charge rather than acting administrator Gale Rossides, this wouldn't have happened. That's unlikely because Southers – like Rossides – will just be implementing whatever strategy is approved by the White House.
That's not quite the case for the Director of National Intelligence (DNI), Dennis Blair. As head of the National Counterterrorism Center (NCTC) he's responsible for synthesizing the information generated by the 16 independent intelligence agencies. The 9/11 Commission thought that 16 agencies operating separately might not produce the kind of quick and smooth information analysis so critical to keeping terrorists off airplanes. So they recommended creating the DNI to run the NCTC. Unfortunately, the biggest accomplishment so far has been to increase the size of the available data; not necessarily its usefulness. But hey, they're trying.
And then there's the Department of Homeland Security (DHS), and its flip-flopping secretary, Janet Napolitano. First, "the system worked," even though 288 people were a properly detonated explosive away from being murdered. Later, it failed when the secretary was reminded that near misses aren't the same as no problems. Then again, maybe the system did work, if by work it means that a young, single male foreign national who recently spent time in Yemen and whose father warned a CIA station chief about his son's radicalism wasn't unnecessarily "profiled" before he boarded.
Something needs to change. It starts with ranking priorities.
Clarity and consistency breed stability. The primary problem facing our intelligence community isn't a lack of expertise or information – if anything, there's probably too much when you factor in the multitude of agencies, databases and lists collecting inputs. With all this information floating around, the government must find a way to prioritize it. And that means some degree of profiling: people, nations, group affiliations. A person's repeated behavior shows a habit. In sports, that's called a tendency. Tendencies are identified so they can be anticipated and countered. In government, of course, applying generally accepted norms to specific individuals is considered stereotyping. And we all "know" that stereotypes must be avoided – not because they are inaccurate at predicting probabilities. Rather, because they lack certainty.
But barring full body cavity searches of every air traveler, security screeners won't have certainty. So we should look for ways to identify probable threats based on the information already available. One way to do that would be to run air travelers' information through a database and designate certain words and phrases for special scrutiny. Examples would include "Yemen," "foreign national," and "father reported son to United States authorities." Though such a database is being developed, it's underfunded. Any chance it could qualify for some stimulus money?
If President Obama refuses to rearrange the organizational chart so that responsibility for security flows in an easily discernable direction, it won't matter who's calling the shots at TSA, DHS or NCTC. Without clarity and consistency, there can be no stability. Even more important, no one will feel or be personally responsible for the next security breach because, well, it wasn't technically in their job description – at least not exclusively. TSA needs x-ray machines and the DNI a better search engine. DHS? It's off the hook because the buck apparently keeps moving until it lands on the president's desk. That is, until somebody actually dies.