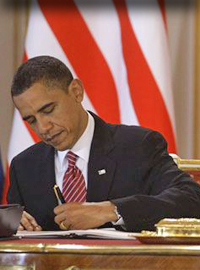 Reagan steadfastly rejected Soviet offers to eliminate nuclear arsenals if we renounced missile defense. Until such provisions are eliminated from 'New Start,' so should we.
What to make of Peggy Noonan's recent intellectual fender-bender in The Wall Street Journal?
Ironically entitled "A New Start in Washington," her piece reverts to the same calcified strategic orthodoxy that her former boss Ronald Reagan so brilliantly challenged. Noonan's commentaries often provide an eloquent weekly blueblood barometer. The natural byproduct of her perspective, however, is that she often confuses sclerotic elitism for – in her own word this week – "grace."
In her column, Noonan offers a bizarre defense of the "New Start" treaty that the Obama Administration so desperately wants ratified (as if that fact alone isn't conclusive evidence ratification is a bad idea). Namely, Noonan declares that it would somehow make Barack Obama look "grown-up":
"The primary reason Start should be ratified is that we are at a point where we have to show the world that we are a grown-up, capable, functioning republic that can negotiate, agree to and ratify a major treaty with a world power. This president has to appear to be capable of it."
In other words, ratify "New Start" to demonstrate that Obama can get something ratified? Noonan ultimately betrays another motive, however, when she descends into a curious fit of nostalgia:
"There is much at this point to be gained by a re-emergence of the old bipartisan foreign-policy establishment to the extent it existed, and to an extent it actually did. We saw this with the statements of James Schlesinger, George Shultz, James Baker, Lawrence Eagleburger, Brent Scowcroft, Warren Christopher, Madeleine Albright and Colin Powell in support of the treaty. It looked like the grown-ups were back. In the age of WikiLeaks, and of a severe and structural recession that has undercut America's position and its perceived standing in the world, this kind of unified stand can only help. It would be good if the White House is trying to get those old pros, including George H.W. Bush, literally to stand with the president as he makes a final, formal, unemotional, coolly strategic case for the treaty. He should in fact have them in regularly, as a real and functioning kitchen cabinet. He always seems alone out there, the neighborhood pickup basketball guy playing his own game. The Senate should pass the treaty with grace and stand with the president. It will be good to show the world: America can still do this."
Of course, that same "bipartisan foreign policy establishment" snickered when Reagan announced his strategic defense initiative (SDI). Not to mention the way most of them derided his bold strategy toward the Soviet Union that quickly won the Cold War.
Unfortunately for Noonan, her entire argument rests on a grossly erroneous premise – that the proposed accord creates no potential harm:
"Treaties must be judged on their merits, and the essential merit in this case is obvious. In requiring the U.S. and Russia to reduce the number of deployable nuclear weapons in a way that allows for verification, it would do nothing to make an insecure and unstable world less secure and stable, and could arguably make it more stable."
That is an astonishingly sloppy assertion from someone of Noonan's pedigree.
The proposed treaty's explicit terms jeopardize American missile defenses by asserting "the interrelationship between strategic offensive arms and strategic defensive arms, that this interrelationship will become more important as strategic nuclear arms are reduced, and that current strategic defense arms do not undermine the viability and effectiveness of the strategic arms of the parties."
Note the critical and limiting use of the term "current."
But that's not all. The proposed accord also commands that, "Each party shall not convert and shall not use ICBM launchers and SLBM launchers for placement of missile defense interceptors therein."
The Russians assert that these provisions are "legally binding," and "clearly spelled out in the treaty." The Obama Administration, however, assures us that they're meaningless. Keep in mind that the Obama Administration also assured us that "if you like your health insurance, you can keep your health insurance." So consider the reliability of the source, and also recall that Obama explicitly campaigned on a promise to curtail missile defense innovation.
Regardless, if those missile defense limitations are meaningless, then why include them in the treaty at all? If, as the treaty's defenders assert, "this treaty is about offensive strategic weapons," then why meaninglessly assert their "interrelationship" with missile defense in its provisions? And why does the notoriously duplicitous and ruthless Vladimir Putin insist on its ratification?
Perhaps Obama's assurances are enough to secure Noonan's support. The Senate and American public, however, should instead ask themselves that standard question: What would Reagan do?
The answer is obvious. Reagan steadfastly rejected Soviet offers to eliminate nuclear arsenals if we renounced missile defense. Until such provisions are eliminated from "New Start," so should we.