By Troy Senik
Thursday, September 11 2014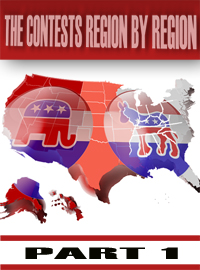 Three seats in the West have the prospect of switching hands, all from Democrats to Republicans.
In a two-part series earlier this year, I provided a preview of the midterm Senate races, examining which states we could expect to see influence the balance of power in the upper chamber come the beginning of next year.
Now that we've passed Labor Day — generally considered the line of demarcation for when congressional races start shifting into high gear — I'll be launching a new series that will examine, region by region, the current state of those contests. This week: the Western states.
Three seats in the West have the prospect of switching hands, all from Democrats to Republicans.
The least competitive will be in Montana, where Democrat John Walsh (who was appointed to the seat earlier this year when retiring Senator Max Baucus was made the Obama Administration's Ambassador to China) was forced to drop out of the race after revelations that he had plagiarized his master's thesis while attending the Army War College.
Walsh wasn't likely to beat freshman Republican Congressman Steve Daines anyway, but now that he's been replaced as the Democratic nominee by 35-year-old State Representative Amanda Curtis — a political non-entity — the race's outcome is essentially a foregone conclusion.
Daines is polling about 20 points ahead of Curtis and it would take something just shy of a miracle to make this race tight. This is an overdue correction, as Montana — a state that consistently votes for Republicans in presidential races — hasn't gone for a member of the GOP in a U.S. Senate race since the reelection of Conrad Burns in 2000.
The margins are much closer in Alaska and Colorado, both states where freshman Democrats are seeking reelection.
On paper, the easier pickup for the GOP should be Alaska, a state with strong Republican inclinations thanks to a generally libertarian political culture (The Last Frontier's politics are similar to those of lightly populated Mountain West states like Idaho and Wyoming). Moreover, incumbent Mark Begich owes his election largely to the fact that (A) 2008 — when he was first elected — was a Democratic wave year and (B) the incumbent Republican he defeated, Ted Stevens, had just been convicted on seven federal corruption charges (a ruling that was subsequently voided). Even still, Begich only won with a plurality of the vote.
Begich, however, has more staying power than most Alaska Democrats because of a familiar name (his late father was once Alaska's at-large congressman) and a rhetorical distance from President Obama (he told the Washington Post this summer that "I'll be a thorn in Obama's a**)." That line might be more effective if he hadn't voted with the President 97 percent of the time.
Challenging Begich is Republican Dan Sullivan, an ex-Marine who's previously served as Alaska's Attorney General and Commissioner of Natural Resources, in addition to a stint as an Assistant Secretary of State in the George W. Bush Administration.
Sullivan only recently secured the nomination (Alaska didn't hold its primary until August 19), but there are encouraging signs that he's beginning to pull ahead, with the most recent polling giving him a 2-4 point advantage.
That's not a comfortable margin by any stretch, but the combination of being in a state with strong Republican fundamentals and running in what could be a GOP wave year are both likely to cut in Sullivan's favor. Polling out of Alaska is never great, but one has, at this point, to give Sullivan a slight advantage.
The final competitive Western race is in Colorado, and this is one that holds deeper significance than just one Senate seat.
Over the past decade, the Centennial State has become the textbook example of how Democrats can organize their way to victory (though demographics have also helped), prompting endless books and articles on "The Colorado Model."
If the state resists the turn towards Republicans this year, it may be a sign that it has finally fallen out of reach, having fully transitioned from a purple state to a blue one (at least when it comes to statewide elections).
Though Colorado was previously relatively strong for the GOP, Barack Obama won the state in both 2008 and 2012, and it hasn't elected a Republican governor or senator since 2002.
Colorado Republicans caught a break with the late decision by young Congressman Cory Gardner to throw his hat in the ring. Gardner is a much stronger candidate than any other Republican in the field and is running against freshman Democrat Mark Udall, who comes with some built-in liabilities.
Among them: Udall was one of several Democratic senators to have been recorded repeating the "if you like your health care, you can keep it" promise and, in the campaign's first debate last weekend, he claimed that ISIS "does not present an imminent threat to this nation" and actually invoked the names of beheaded American journalists Steve Sotloff and James Foley, saying they would have endorsed his cautious approach to the Middle Eastern terror group (a comment for which he's subsequently apologized).
Unlike in Alaska, Republicans can't count on a fundamentally friendly atmosphere in Colorado. This race will likely be close regardless of who wins. Recent polling shows Udall retaining an edge, though one that skirts the margin of error.
Gardner has a real shot at victory, but he should probably be considered a slight underdog (especially if Democrats effectively employ their turnout machinery in a state they've so rigorously organized). Expect this one to come right down to the wire.
None of the other races in the West command much attention. Earlier in the year, it looked like Republican neurosurgeon Monica Wehby might have an outside chance of knocking off freshman Democrat Jeff Merkley in Oregon, but Wehby's candidacy has proven far too weak to move the needle in a state with such strong liberal inclinations.
The GOP may also have been able to challenge freshman Democrat Tom Udall (cousin of the Colorado senator) in New Mexico, but it failed to find a candidate able to make the race competitive. One other Democrat in the region, Hawaii's Brian Schatz, is also safe for reelection, having narrowly survived a tough primary this summer (the Aloha State's seat would have stayed in Democratic hands regardless).
There is also a group of Republican incumbents — Texas's John Cornyn, Oklahoma's Jim Inhofe, Idaho's Jim Risch, and Wyoming's Mike Enzi —who will be easily reelected and a new Republican, Oklahoma Congressman James Lankford, who is expected to easily win the special election to fill the seat being vacated by conservative Tom Coburn, who is retiring two years early due to a fight with cancer.
That concludes our look at the West. Next week: races in the Midwest.