By Troy Senik
Thursday, September 18 2014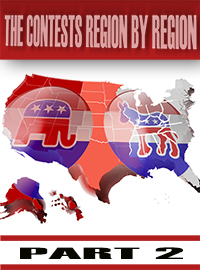 At present, there are four races in the region that hold the prospect of a seat changing hands from one party to another. Three of the races look to be very competitive.
Last week, I began a three-part series on this fall's midterm races for the U.S. Senate, with each edition highlighting a different region of the country.
The first installment focused on the West, where Republicans are all but certain to pick up a seat in Montana and where hotly contested races are currently underway in Alaska and Colorado, both of which have the prospect of shifting from Democratic to Republican hands come Election Day.
This week, the series continues with a look at the Midwest.
At present, there are four races in the region that hold the prospect of a seat changing hands from one party to another. Three of the races look to be very competitive. The sole exception is South Dakota.
It was only a decade ago that South Dakota was home to the Senate's leading Democrat, Tom Daschle, but the state has never been a stronghold for the Left.
South Dakota hasn't voted for a Democratic presidential nominee since Lyndon Johnson in 1964 and hasn't elected a Democrat governor since 1974.
After Daschle was defeated by Republican John Thune in 2004, the last vestige of Democratic influence in the state was moderate Senator Tim Johnson. Johnson suffered a major brain hemorrhage that looked like it might be terminal in 2006, but managed to run for — and win — reelection in 2008.
This year, however, Johnson is stepping down. The Republican nominee to replace him, Mike Rounds, is a well-liked former governor of the state and the Democratic nominee, Rick Weiland, is considered even less viable than a pair of independent candidates who are also running.
The race has been lightly polled — partially because Rounds is considered such a shoo-in — but virtually all of the results show the former governor with a double-digit lead.
This is one of three states — Montana and West Virginia are the others — where Republicans should be able to flip a seat without expending too much effort.
Two other Republican pickup opportunities are much closer.
The first is in Iowa, where liberal five-term senator Tom Harkin is stepping down after 30 years in the upper chamber. The GOP got lucky in this race, with State Senator Joni Ernst, easily the most talented of the potential candidates, emerging from a crowded field as the nominee.
Ernst is a young, likable candidate who has more than two decades of service in the Army Reserves and the Iowa Army National Guard (where she is now a lieutenant colonel) under her belt (she was a company commander during Operation Iraqi Freedom, running convoys through Kuwait and into Southern Iraq).
Her agricultural background is also a good fit for the state, a fact that was underscored when a campaign ad in which she said, "I grew up castrating hogs on an Iowa farm. So when I get to Washington, I'll know how to cut pork" went viral.
Ernst's opponent is Congressman Bruce Braley, who seems to have a spectacular gift for self-sabotage.
Dogged by gaffes throughout the campaign, Braley was caught on film earlier this year telling a group of lawyers that it was vital to keep the GOP out of the majority in the Senate lest the chairmanship of the Senate Judiciary Committee fall to Iowa's other (beloved) Senator, Charles Grassley, whom Braley ridiculed as "a farmer from Iowa who never went to law school."
If one is trying to win one's way into the hearts of Iowa voters, ridiculing Grassley and demeaning agriculture aren't exactly an auspicious start.
Still, the race remains competitive, as Iowa is a closely contested state. In the Senate, the liberal Harkin and relatively conservative Grassley have both represented the state since the mid-1980s. And over the last 32 years, the state has had only three governors — moderate Democrats Tom Vilsack and Chet Culver, and Republican Terry Branstad, who's almost certain to get elected to an astonishing sixth term this year (his first four came from 1983 to 1999).
In this competitive environment, it's no surprise that the Iowa race has been polling within the margin of error. A Quinnipiac poll released earlier this week showed Ernst six points ahead, but it is thus far an outlier and should be taken with a grain of salt until other polling shows similar movement.
Still, there are signs that Obama-era liberalism has weakened Democrats in the heartland. That fact, combined with Ernst's superiority over Braley as a candidate — and midterm fundamentals — could likely tip a close race towards Republicans.
The situation is slightly less sunny for the GOP in Michigan, where 80-year-old veteran Democrat Carl Levin is retiring after more than 35 years in the Senate. The nominees to replace him are former Michigan Secretary of State Terry Lynn Land for the Republicans and Representative Gary Peters for the Democrats.
That this race was competitive at all caught some election observers by surprise, as Michigan is generally considered one of the most reliably liberal states of the Upper Midwest.
A Republican presidential candidate hasn't won Michigan's electoral votes since George H.W. Bush in 1988. One-term Senator Spencer Abraham (later Secretary of Energy in George W. Bush's administration) was the only Republican the Wolverine State has sent to the upper chamber in the last three and a half decades.
There have been some promising signs for Michigan Republicans lately. GOP businessman Rick Snyder was elected governor in 2010 and managed to get the state — historically one of the epicenters of union power in America — to adopt a right-to-work law.
Snyder, however, is in serious danger of losing his reelection bid this year, a sign that the state is far from a Republican renaissance. That seems to be the case in the Senate election too, where polling consistently shows Land behind, though usually by little more than the margin of error.
Land has thus far run a lackluster campaign and Michigan is a state that — though its fundamentals may slowly be changing —is still at home with the Democratic Party.
If a Republican wave really does crest on Election Day, it may be enough to push Land to victory. Anything short of that, however, likely leaves Peters better positioned to claim the win.
The final competitive race in the region is one of the big surprises of this cycle, a contest that wouldn't have appeared in this list had it been written even a month ago.
In Kansas, 78-year-old Republican Senator Pat Roberts is now imperiled in what was previously considered an easy bid for a fourth term in a reliably Republican state.
The main reason: Roberts' status as an absentee legislator. The Senator has been sharply criticized for the fact that he doesn't own a home in Kansas (he's registered to vote at an address belonging to supporters). While the issue didn't sink him in a primary race with Tea Party challenger Milton Wolf, he may not be so lucky in the general election.
With Democratic candidate Chad Taylor having recently dropped out of the race, the field is now cleared for a head-to-head matchup between Roberts and independent Greg Orman. That doesn't bode well for Roberts, who could have benefitted from a fractured opposition. Kansas is a firmly Republican state, but this election is less about ideology than about home-state loyalty.
Orman has positioned himself as a balanced, non-partisan figure and his candidacy seems to be picking up traction. Two polls since Taylor dropped out have shown Orman leading Roberts, a recent one by Public Policy Polling putting the advantage at seven points.
This is likely to be an especially fluid race, but Republicans have to fret that their chances at retaking the Senate majority may be imperiled by a veteran politician who seems to have forgotten Tip O'Neil's maxim that "all politics is local."
There are only three other races in the region, none of which are likely to generate fireworks. In Nebraska, retiring Republican Mike Johanns is almost certain to be replaced by another member of the GOP, Midland University president Ben Sasse, a veteran of the George W. Bush Administration who is widely considered one of the biggest potential stars of this cycle.
The other two races feature Democratic incumbents — freshman Al Franken in Minnesota and Majority Whip Dick Durbin in Illinois. While optimistic Republicans have noted that both men's polling numbers are lower than expected, it's doubtful that either Franken or Durbin will face serious pressure from weak Republican candidates in reliably Democratic states.
That concludes our look at the Midwest. Next week: the South.