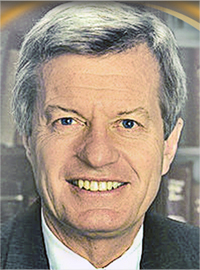 So let us get this straight. A federal government with record low approval is commandeering a U.S. healthcare system that 80% of Americans rate as 'Good' or 'Excellent.'
With trademark petulance, Barack Obama denounced the Senate this week for rejecting his flawed gun control legislation.
Of course, considering the slow-motion disaster that is his most defining act to date – ObamaCare – Americans should breathe a sigh of relief. Simply put, when Obama gets what he wants, it means calamity for everyone else.
But don't take our word for it. This week, one of the most powerful Democrats in America called ObamaCare a "train wreck."
Senator Max Baucus (D – Montana), who holds the high-profile position of Finance Committee chairman, told Obama's Health and Human Services (HHS) Secretary Kathleen Sebelius that he is "very concerned" as the nation approaches ObamaCare's implementation. "I just see a huge train wreck coming down," Baucus told Sebelius, adding that, "You and I have discussed this many times, and I don't see any results yet."
"Small businesses have no idea what to do, what to expect," Baucus added. "You need data. Do you have any data? You've never given me data. You only give me concepts, frankly."
Ouch. And that's from a man who cast a vote in favor of ObamaCare.
But he's no anomaly.
While Baucus was scolding Sebelius this week, the United Union of Roofers, Waterproofers and Allied Workers announced that it was urging repeal of ObamaCare. Its announcement was remarkable for its hostility:
"Our union and its members have supported President Obama and his Administration for both of his terms in office.
But regrettably, our concerns over certain provisions in the ACA (Affordable Care Act, a.k.a. ObamaCare) have not been addressed, or in some circumstances, totally ignored. In the rush to achieve its passage, many of the Act's provisions were not fully conceived, resulting in unintended consequences that are inconsistent with the promise that those who were satisfied with their employer sponsored coverage could keep it.
These provisions jeopardize our multi-employer health plans, have the potential to cause a loss of work for our members, create an unfair bidding advantage for those contractors who do not provide health coverage to their workers, and in the worst case, may cause our members and their families to lose the benefits they currently enjoy as participants in multi-employer health plans.
For decades, our multi-employer health and welfare plans have provided the necessary medical coverage for our members and their families to protect them in times of illness and medical needs. This collaboration between labor and management has been a model of success that should be emulated rather than ignored. I refuse to remain silent, or idly watch as the ACA destroys those protections.
I am therefore calling for repeal or complete reform of the Affordable Care Act to protect our employers, our industry, and our most important asset: our members and their families."
So a labor leader has concluded that ObamaCare "destroys" existing coverage, will cause layoffs and raises costs. Once again, that's according to one of Obama's supporters.
Meanwhile, a new poll confirms what other scientific surveys over recent years have found: Americans are overwhelmingly happy with the healthcare they already receive.
According to the latest Rasmussen poll, some 78% of Americans rate the overall quality of healthcare they receive either "Good" or "Excellent." Only 4% label their healthcare "Poor." Gallup reached the same result in its most recent survey, when 82% of respondents the level of care they receive as "Good" or "Excellent."
Moreover, a majority of respondents in Rasmussen's poll expect the nation's healthcare system to get worse in the near future, not better. And a majority in Gallup's poll have soured on the federal government's role:
"For the first time in Gallup trends since 2000, a majority of Americans say it is not the federal government's responsibility to make sure all Americans have healthcare coverage. Prior to 2009, a majority always felt the government should ensure healthcare coverage for all, though Americans' views have become more divided in recent years."
In contrast, according to a Pew Research poll, public favorability toward the federal government has reached an all-time low of 28%.
So let us get this straight. A federal government with record low approval is commandeering a U.S. healthcare system that 80% of Americans rate as "Good" or "Excellent." And even union leaders and leading liberals like Senator Baucus are attacking ObamaCare.
Conservatives rarely agree with Baucus, but "train wreck" sounds about right.