By Ashton Ellis
Wednesday, September 24 2014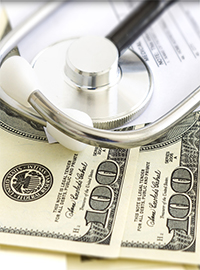 The failure of CMS to account accurately for its spending and staffing to promote a taxpayer-funded program raises red flags about the agency's management.
A new Government Accountability Office report says the primary agency charged with ObamaCare's implementation can't verify how much it's spending to promote the controversial health law.
ObamaCare's in-house marketing job is the responsibility of the Center for Consumer Information and Insurance Oversight (CCIIO), an arm of the Centers for Medicare and Medicaid Services (CMS).
CMS is the federal agency primarily responsible for implementing ObamaCare, which includes doling out millions of dollars through CCIIO to hire outside consultants to conduct "polling, focus groups or advertising and other public relations activities," according to the GAO report.
Apparently, though, no one at CMS or CCIIO knows how much money has been spent on these activities from 2010 to 2013.
GAO also faults CMS for not producing information detailing how many staff members were reassigned to CCIIO from other units.
For context, GAO could confirm other elements of CCIIO's budget impact. The agency's total obligations for the 2014 fiscal year "was $3.7 billion; the number of staff as of September 30, 2013, which was 347; and total salary expenditures from March 2010 through fiscal year 2013, which were $79.8 million."
The failure of CMS to account accurately for its spending and staffing to promote a taxpayer-funded program raises red flags about the agency's management.
Does CMS's refusal to itemize its spending on ObamaCare's ad campaign indicate the agency would rather not reveal which firms and experts it hired? Perhaps the pool is dominated by liberal cronies. Or maybe no-bid contracts with little return on investment. It could be both.
And why won't CMS say whether it depleted its Medicare and Medicaid workforce to buoy ObamaCare? The Department of Health and Human Services has already been caught trying to gut funding for the former to pay for the latter. If staff followed the money, why not just say so?
Maybe it's because CMS lacks congressional authorization for such moves.
The GAO report confirms the suspicions of the members of Congress who requested it.
"The Administration has tried to hide the ball from Congress on just how much it is spending on the health care law," House Ways and Means Committee Chairman Dave Camp (R-MI) said in a statement. "After ignoring repeated requests from Congress, we now find out that the Administration is not even keeping track of how many taxpayer dollars are going out the door. Worse yet, the Administration won't even account for how much it spent on public relations campaigns promoting their unpopular law."
"The GAO's report confirms what we already know – this Administration is not interested in following the letter of the law when it comes to [ObamaCare]," added Rep. Charles Boustany (R-LA).
In its response to GAO, CMS blamed its own technology.
According to the GAO report, "…CMS's core financial system – HIGLAS – did not produce CCIIO-specific totals for much of the financial information we requested, and CMS did not have an efficient alternate approach for identifying the information."
In its place, "CMS employed an ad hoc manual process to identify the information requested, which was labor intensive and time consuming. In addition, CMS's procedures for identifying and obtaining the information and its review and approval were not documented, so we also could not verify that these procedures had been properly performed."
As GAO points out, these omissions likely violate federal record keeping guidelines. "Because CMS was not able to provide timely CCIIO-related information whose reliability could be independently determined, Congress and other decision makers may not have timely and reliable CCIIO-related financial management information, which could hamper efforts to make informed resource allocation decisions and assessment of program performance."
In other words, ObamaCare creates vast new powers, programs and spending categories inside the executive branch. Insulated from direct accountability to citizens, bureaucrats can easily morph from public servants into an arrogant elite. For too many, the only hindrance is a vigilant Congress armed with up-to-date information. But without accurate and timely data, Congress cannot perform its oversight role of the federal bureaucracy.
Which, at CMS, seems to be precisely the goal.