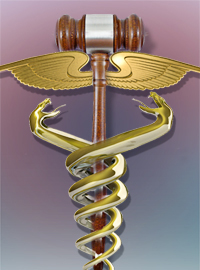 It turns out that as the American people find out what's in the bill, they actually don't seem to like it one bit. That dissatisfaction found expression this week not just in the court of public opinion, but also the court of law.
"Once you explain what's in the bill, the American people of course like it." ~Senate Majority Leader Harry Reid (D – Nevada)
"It's going to be very, very exciting. But we have to pass the bill so that you can find out what is in it." ~Speaker of the House Nancy Pelosi (D – California)
Remind us to never let Harry Reid or Nancy Pelosi pick our lottery numbers.
Of course, we already learned everything we needed to know about Harry Reid's fortunetelling prowess when he announced in May 2007 that "this war is lost," just as the American military was commencing its successful Iraq surge. Regardless, it turns out that as the American people find out what's in the bill, they actually don't seem to like it one bit.
That dissatisfaction found expression this week not just in the court of public opinion, but also the court of law.
The bill to which we refer, of course, is ObamaCare.
In federal court this week, District Judge Henry Hudson rejected the Obama Administration's plea to dismiss Virginia Attorney General Ken Cuccinelli's challenge against ObamaCare. Judge Hudson held that "this case raises a host of complex constitutional issues," over "whether or not Congress has the power to regulate – and tax – a citizen's decision not to participate in interstate commerce." Judge Hudson further observed that, "unquestionably, this regulation radically changes the landscape of health insurance coverage in America," and "forges new ground and extends Commerce Clause powers beyond their current high watermark."
Judge Hudson struck the appropriate note, since the legal challenge against ObamaCare centers on the momentous issue he referenced. Namely, does any constitutional restraint upon the federal government's power survive today?
The Constitution as written grants the specific federal power to "regulate Commerce with foreign Nations, and among the several States." Can that authority to regulate interstate commerce be read so broadly as to compel involuntary commercial activity by individual citizens via purchase of bureaucratically approved insurance policies? If so, then no effective limit upon federal power remains.
Such a result would surely startle our Founding Fathers, who sought to protect individual freedom by creating a government of limited powers.
Regardless of how the Founding Fathers would have reacted, Judge Hudson's ruling surely startled ObamaCare proponents, who previously dismissed legal challenges as laughable. The Washington Post, for instance, ran a March 24, 2010 commentary entitled "Is Health Reform Unconstitutional? Don't Laugh."
In similar tone, Nancy Pelosi, when asked to identify the constitutional provision authorizing ObamaCare, could only reply, "Are you serious? Are you serious?"
They're certainly not laughing now.
The White House, like clockwork, responded to the ruling by playing the race card (apparently their only alternative to the Bush card):
"Having failed in the legislative arena, opponents of reform are now turning to the courts in an attempt to overturn the work of the democratically elected branches of government. This is nothing new. We saw this with the Social Security Act, the Civil Rights Act, and the Voting Rights Act."
Thus, the White House has gone from snickering at constitutional challenges to labeling them implicitly racist.
In the court of public opinion this week, ObamaCare received an equally resounding rejection.
Missouri is known as "The Show Me State," and its politics are as famously centrist as its geography. In the 2008 presidential election, for example, the difference separating Barack Obama and John McCain was a mere 0.1%.
Missouri voters are anything but equivocal toward ObamaCare, however.
When asked to register their opinion on the same individual mandate question addressed by Judge Hudson, a 71.1% majority approved Proposition C, which prohibits forcing individuals to purchase insurance coverage. People of reasonable minds can differ on the wisdom of foregoing health insurance, but Missouri voted more than 2-to-1 against forcing free citizens to engage in commercial transactions as required by ObamaCare.
With an open Senate seat to be filled by Missouri voters this November, we presume that the White House will be more circumspect in labeling that state's electorate racist.
Then again, this is the same Obama who childishly contested whether ObamaCare's individual mandate constituted a "tax," only to turn around and defend it in court under federal taxation power. As electoral and judicial defeats accumulate, anything is possible.