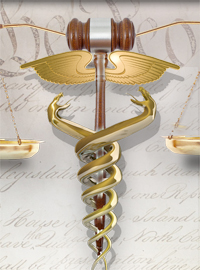 The fate of ObamaCare isn't in Supreme Court Justice Anthony Kennedy's hands. It's in ours.
This was a wonderful week for individual freedom in America.
For the second time in two months, a federal judge has ruled ObamaCare unconstitutional. Specifically, Judge Roger Vinson of the United States District Court for the Northern District of Florida ruled that ObamaCare's "individual mandate," which would force each and every citizen in each and every last corner of American territory to purchase federally approved health insurance, violated the Constitution's Commerce Clause restraint on federal authority. In December, Judge Henry Hudson of the U.S. District Court for the Eastern District of Virginia had reached the same conclusion.
Thus did now-former Speaker of the House Nancy Pelosi suffer another humbling tutorial following her dismissive "Are you serious? Are you serious?" response when asked last year to cite the Constitutional authority for her abusive legislative handiwork.
Understandably, the eyes of non-lawyers immediately glaze over upon reference to the Commerce Clause. It isn't, however, a dry academic endeavor or "mere historic relic of a bygone era," as Judge Vinson stated in the introduction to his decision. Quite the contrary, it was a critical provision deliberately inserted into the Constitution by our Founding Fathers.
Here's why it's important.
America was founded on the central Constitutional principles of individual freedom and limited government. Those principles provided the foundation on which this nation has prospered as no other in human history. And one mechanism by which the Founding Fathers protected those principles was to limit federal authority to commerce actually traversing state lines. Although the Founders needed to empower the federal government to prevent commercial warfare between states, that power extended only to actual goods and services crossing state lines. To do otherwise, and extend federal authority to anything that had any degree of direct or indirect impact on commerce whatsoever, would render federal power limitless.
Such a possibility simply doesn't square with the Founders' central goal of a government with finite, defined power.
Unfortunately, irresponsible judges have disregarded the Commerce Clause in recent decades because it impeded their path to politicized end results. And in defending ObamaCare, the federal government treated it with the same disregard. The Obama Administration asked the court to accept that refraining from interstate commerce somehow amounts to interstate commerce, that commercial inactivity somehow amounts to commercial activity, triggering government authority.
Fortunately, Judge Vinson and Judge Hudson rejected the Obama Administration's claim to unchecked power.
Almost immediately, pundits spanning the political spectrum concluded that United States Supreme Court Justice Anthony Kennedy will ultimately determine ObamaCare's viability. With four reliably conservative and four reliably liberal justices, according to that consensus, Justice Kennedy will settle this controversial matter for the entire country.
But that is not correct. The fate of ObamaCare isn't in Supreme Court Justice Anthony Kennedy's hands. It's in ours.
Just three months ago, the American electorate unceremoniously banished Pelosi to minority status largely because of her ruthless campaign to impose ObamaCare on an unwilling nation. Senate Majority Leader Harry Reid nearly suffered the same fate, and probably will in 2012 when 23 Democrats must face reelection versus only 10 Republicans.
Since that date, the new House of Representatives has made good on its promise to repeal ObamaCare, with a bipartisan vote last month. If the current Senate refuses to follow suit in its scheduled vote this week, then 2012 will provide American voters the opportunity to elect candidates who will. If, on the other hand, the Senate finally respects public will and votes to repeal, then the bill will go to the man whom voters can also replace in less than two years.
Moreover, if Justice Kennedy effectively writes the Commerce Clause out of the Constitution by upholding ObamaCare, it will only awaken voters to the fact that presidential elections decide who will sit on the Supreme Court and settle matters so important to the nation and the preservation of its Constitutional principles.
However this unfolds, it will provide an important "teachable moment," as Lecturer-in-Chief Obama would say. The American public must insist that the current Congress respect its will in repealing ObamaCare, or vote accordingly in 2012.
Either way, Justice Kennedy won't have the final say. We the People will.