By Quin Hillyer
Monday, December 09 2013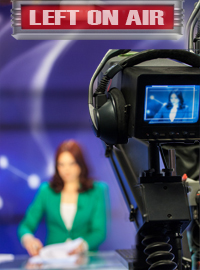 Each year the exercise becomes more enraging and depressing.
Year in and year out, the establishment media excuses some of the most vicious and/or vacuous statements or writings from the liberals who make up the vast bulk of that establishment, while accusing conservative writers of awful things we just didn't say. It is therefore appropriate, in a "let's-have-fun" sort of way, for the Media Research Center each year to sponsor its "Best Notably Quotable" awards to highlight the malignity and the inanity that so often spews forth from the American media's self-enclosed terrarium.
For 16 or 17 years, now, I have been one of the dozens of judges for the mock awards. Each year the exercise becomes more enraging and depressing. Consider some of the following bits of tommyrot that did not earn my vote for worst quote of the year (although some of them earned my vote in individual categories) – and, in order to avoid redundancy, I will omit every one of the vile or nonsensical examples from His Unhingedness himself, Chris Matthews.
From Charles Pierce, writing about Tea Party-friendly Republicans, on Esquire.com's "The Politics Blog": "We have elected an ungovernable collection of snake-handlers, Bible-bangers, ignorami, bagmen and outright frauds, a collection so ungovernable that it insists the nation be ungovernable, too…. We have elected a national legislature in which the true power resides in a cabal of vandals, a nihilistic brigade… We looked at our great legacy of self-government and we handed ourselves over to the reign of morons."
From MSNBC host Ronan Farrow, speaking – get this! – about disbarred-Bill and cattle-futures-Hillary Clinton: "I think that they represent a style of honesty that the public craves right now."
From Carl Bernstein, intermittently reasonable Watergate hero: "Eric Cantor and his Republican Party are the most dangerous demagogic force in American politics since Joe McCarthy…. Obama's presidency [must] protect the national security from this dangerous demagogic element that is on the precipice of really having a kind of power that's ruinous in America and ruinous to democracy."
CNN's Piers Morgan, angry about conservatives opposing gun control, Tweeted that radio hosts Ben Ferguson and Dana Loesch should "stand at the end of a range and I'll get 100 blind people to fire away at targets around you."
Okay, the next is not from a journalist but just from a famous Hollywood Meathead, but still, this is apparently what passes for wisdom from actor-director Rob Reiner: "Obama right now, where Obama is, is right around where Reagan was, right around where Nixon was. He's no more left than those Republicans."
In the category called "The Obamagasm Award," Newsweek's cover for the president's second inauguration featured a photo of him with the sacrilegious headline, "The Second Coming."
On the other hand, black conservatives are not beatific, but hellish. MSNBC analyst Michael Eric Dyson, responding to a Supreme Court ruling invalidating various misapplications of the Voting Rights Act: "Clarence Thomas's actions here today, though consistent, though tragic to me, are even more so in light of the bulk of decisions he's rendered in the name of a judicial vote on the Supreme Court: A symbolic Jew has invited a metaphoric Hitler to commit Holocaust and genocide upon his own people."
Ordinarily, that hateful eruption would have won my vote for best (worst) quote of the year. It certainly was the most vicious. But if that quote was about a 98.5 on a 100-point scale of maliciousness, the following was a perfect 100 on the scale of sheer and utter… well, stupidity is the only possible word for it. Here is NBC chief medical editor Nancy Snyderman not just wanting to water down Christmas to a generic "holiday," but wishing away the entire reason for the season – and, hands down, it won my vote for Quote of the Year: "I don't like the religion part. I think religion is what mucks the whole thing up…. I don't like the religion part. I think that's what makes the holidays so stressful."
Next thing you know, somebody on NBC will be wishing the Super Bowl would just get rid of the "football part" of the festivities because all that violence messes up an otherwise perfectly good entertainment extravaganza………
When study after study (please Google it) shows that obscenely high percentages of "mainstream" journalists consistently vote for Democratic presidential candidates over Republican ones, and that journalists particularly tend to hold organized religion and its values in high disdain, it is no wonder that conservatives feel aggrieved.
And in some cases, it is the establishment media which proves itself, not Tea Partiers, to be a collection of "ignorami, bagmen and outright frauds."