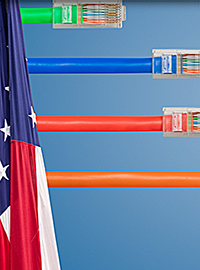 If anything was 'breaking the internet,' it was the destructive rules suddenly and needlessly imposed by the Obama FCC in 2015.
In 2015, the Obama Administration's Federal Communications Commission (FCC) decided in its wisdom that the internet was somehow broken.
In order to "fix" it, the Obama FCC determined that what internet service suddenly required was greater regulation as a "public utility" under a statutory provision enacted in the 1930s to govern copper-wire telephone service.
What immediately followed shouldn't surprise anyone: The amount of money invested in network infrastructure by internet providers declined for the first time in history outside of a recession.
Between 2010 and 2013, investment in wireless had increased from $25 billion to $33 billion, or fully 33%. But then investment declined when the Obama FCC began threatening heavier regulation, and it fell by $5.6 billion in just the first year after the new regulations were imposed.
Oops.
Now, if you're like most people, you probably had no idea that the internet was stillborn before the Obama Administration adjudged it so in 2015.
But that just means you're not as perceptive as tech sector sages like latenight comedian and habitual on-air weeper Jimmy Kimmel.
Last November, after Trump-appointed FCC Chairman Ajit Pai announced reversal of the counterproductive Obama FCC rule and a return to the pre-2015 "light touch" federal regulatory approach, Kimmel pouted, "I just want to thank you, President Trump - thanks to you and this jackhole you appointed to run the FCC, big corporations are about to take full control over the internet, so Merry Christmas, everybody."
According to Kimmel and his ilk, returning to the pre-2015 regulatory stance would "break the internet."
Reasonable minds, however, know better.
The simple truth is that the internet transformed the world like no other invention in human history between the years 1996 and 2015 precisely because of the federal government's light-touch regulatory approach. The year 1996 is important because that's when internet use began to increase, and not coincidentally, when the Clinton Administration and Republican Congress agreed on the light-touch regulations to let the internet flourish.
Over the ensuing two decades, that approach proved fruitful. But then, as with so many other sectors of the American economy, the Obama Administration decided to engage in counterproductive regulation and crony capitalism on behalf of powerful companies like Google that it favored. They weren't fixing something that was broken, they were commandeering yet another sector of American life to regulate as they saw fit.
Simply stated, those interests demanded that all internet traffic be treated identically, which sounds great in theory and on latenight comedy television. But in reality, that undermines innovation and efforts by service providers to accommodate ever-increasing amounts of internet traffic and capacity crunches.
To illustrate, the amount of data traversing U.S. wireless networks increased from 3.2 trillion megabytes in 2013 to over 12 trillion megabytes today. Moreover, that breakneck pace will continue in upcoming years and decades.
Accordingly, internet providers must possess latitude to experiment with methods to improve speed and service quality. That requires massive amounts of private infrastructure investment, which fell as soon as the Obama FCC "net neutrality" regulations were imposed.
That's precisely why Chairman Pai announced last year a return to the light-touch federal regulatory approach that allowed the internet to grow from 1996 to 2015. By reducing the regulatory uncertainty and heavy-handed regulation of the 2015 Obama FCC regulation, internet providers can more confidently invest in buildout and service upgrades.
That deregulatory approach has already proven fruitful across the rest of the U.S. economy, and the internet sector is no different.
It's important to note that this does not mean that internet service will suddenly become a lawless "Wild West" of internet blockage and slowdowns. As was the case throughout the two decades between 1996 and 2015, the Federal Trade Commission (FTC) remains empowered to police wrongdoing if and when it might occur.
But to hear the political left and people like Jimmy Kimmel, the Trump FCC under Chairman Pai is about to "break the internet" and usher in a new era of blocking website access and censoring the internet. Never mind that such a parade of horribles didn't occur between 1996 and 2015 when the regulatory approach to which we're returning applied, or that any internet provider engaging in such behavior would quickly find itself out of customers.
All that's happening is that we're returning under Chairman Pai to the federal regulatory approach that allowed the internet to become what it is. If anything was "breaking the internet," it was the destructive rules suddenly and needlessly imposed by the Obama FCC in 2015.
You may not hear that on latenight television or across the fever swamps of today's political left. But if you were able to log onto the internet this week when the return to pre-2015 normalcy took effect and access the same sites you always have, you already know it to be true.