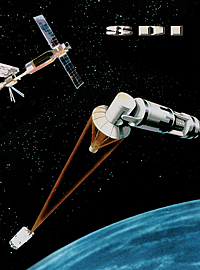 The U.S. and Israel have successfully tested and wielded missile defense, and today a post-Soviet general considers it such an effective threat that he felt compelled to issue reckless threats against its deployment.
Last week, a senior Russian general threatened a preemptive military attack against NATO missile defenses:
"Taking into account the missile defense system's destabilizing nature and, in particular, creating an illusion that a disarming strike can be launched with impunity, a decision about a pre-emptive use of attack weapons available will be made when the situation worsens."
That general, Nikolai Makarov, actually serves as Chief of the General Staff of Russia's armed forces, and he issued the threat during a Russian Ministry of Defense conference in Moscow. Although Russia has suggested in the past that missile defense sites might be targeted in the event of war, General Makarov's explicit threat forged new ground. Moreover, the threat came just as the belligerent Vladimir Putin reclaimed the presidency and the Russian government continues to protect murderous Syrian dictator Bashar al-Assad against American efforts to halt the bloodshed.
So much for the Obama "reset" with Russia.
A cowed Obama Administration couldn't even muster a forceful response. Special envoy Ellen Tauscher could only reply, "We discussed how the European missile defense system is designed and configured to counter ballistic missile threats from the Middle East, and we have made clear we have no intent or desire to undermine Russia's strategic deterrent."
Consider how far we've regressed under Obama. The very concept of missile defense was introduced by President Reagan to counter the Soviet Union's strategic deterrent, but today the Obama Administration rushes to reassure Russia that America has no intention of protecting itself against their massive nuclear arsenal.
This spectacle does, however, vindicate President Reagan's foresight. He introduced missile defense to typical scorn from liberals. Since that date, the U.S. and Israel have successfully tested and wielded missile defense, and today a post-Soviet general considers it such an effective threat that he felt compelled to issue reckless threats against its deployment.
The incident also vindicates Mitt Romney vis-à-vis Barack Obama on foreign policy.
Recall Obama's embarrassing open microphone exchange with then-President Dmitri Medvedev in March:
Obama: On all these issues, but particularly missile defense, this, this can be solved. But it's important for him to give me more space. [emphasis added]
Medvedev: Yes, I understand. I understand your message about space. Space for you…
Obama: This is my last election. After my election, I have more flexibility.
Medvedev: I understand. I will transmit this information to Vladimir.
Romney responded by rightfully criticizing Obama's disingenuousness toward the American electorate, and his irresponsibility toward America's strategic interests:
"This is without question our number one geopolitical foe, they fight for every cause for the world's worst actors. The idea that he has more 'flexibility' in mind for Russia is very, very troubling indeed… When these terrible actors pursue their course in the world, and we go to the United Nations looking for ways to stop them, when Assad for instance is murdering his own people, we go the United Nations. And who is it that always stands up with the world's worst actors? It's always Russia, typically with China alongside. And so in terms of a geopolitical foe, a nation that's on the Security Council and of course is a massive nuclear power, Russia is the geopolitical foe."
Medvedev and Obama continued their newfound teamwork by directing their fire toward Romney. "He should look at his watch," Medvedev said, "because we are in 2012 and not the mid-1970s." Well, perhaps Medvedev should heed his own advice in light of General Makarov's 1970s-vintage threats. In similar manner, the Obama Administration promptly labeled Romney "reckless" and "out of touch." Following General Makarov's rhetoric, however, it appears that Obama is the man dangerously out of touch.
As Obama continues to lose ground to Romney in public opinion surveys, his campaign desperately seeks to portray him as some sort of steady foreign policy hand. His festering failures from Syria to Iran to China, however, belie that portrayal.
Now, Russian generals' threats of preemptive military attack vindicate Romney's worldview, not Obama's.