By Ashton Ellis
Wednesday, March 06 2013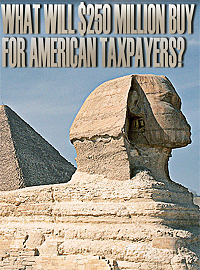 By gift-wrapping an economic aid package that plugs part of Egypt's growing budget deficit in the short term, Kerry is helping to legitimize Morsi and the Brotherhood in the eyes of Egyptian voters...
What will the State Department's $250 million in new foreign aid to Egypt buy for American taxpayers?
That's the question facing Secretary of State John Kerry after he stunned Congress by coming up with a quarter of a billion dollars just days after the March 1 budget sequestration went into effect.
Kerry is framing the spending as a form of investment. Citing Egypt's "extreme needs" financially because political unrest is driving away valuable tourists and investors, Kerry insisted that the money will encourage necessary economic reforms, which in turn will spur political improvements. The money is thus America's down payment on Egypt's "future as a democracy."
If only wishing made it so.
A Congressional Research Service report notes that "Between 1948 and 2011, the United States provided Egypt with $71.6 billion in bilateral foreign aid, including $1.3 billion a year in military aid from 1987 to the present. Since 1979, Egypt has been the second-largest recipient, after Israel, of U.S. bilateral foreign assistance."
Since 1956, U.S. taxpayers have helped secular strongmen like Gamal Nasser, Anwar al-Sadat and Hosni Mubarak hold onto power. Part of the reason for doing so was to keep radical Islamist groups like Egypt's Muslim Brotherhood from gaining political power.
But with the Brotherhood winning three straight popular elections since Mubarak's fall in February 2011 – including the election of Brotherhood-backed President Mohammed Morsi – and aiming for an outright majority in April's parliamentary elections, it's clear that when given a choice, a plurality of Egyptian voters prefer political leaders who are anything but peaceful democrats.
Consider Morsi's resume. Though he received a PhD in engineering from the University of Southern California, Morsi's professional life has been spent as a key spokesman for the virulently anti-Semitic Brotherhood. In 2010, Morsi said in a speech that Jews are "descendants of apes and pigs," who are also "blood-suckers." Like the Brotherhood, Morsi supports the Palestinian terrorist group Hamas – also popularly elected in Gaza – because the Palestinian Authority "was created by the Zionist and American enemies for the sole purpose of opposing the will of the Palestinian people and its interests."
No doubt the late Yasser Arafat, terrorist leader of the Palestinian Liberation Organization and founder of the Palestinian Authority, would be surprised to hear that the governmental arm of his PLO was never anything more than an Israeli-American front.
And though Morsi and other elected members of the Brotherhood claim to hold more moderate views, the group they owe their careers to remains committed to creating an Islamic state with policies in line with their rhetoric.
In a way, Kerry's infusion of cash couldn't be worse timing from a pro-democracy standpoint.
With the Egyptian economy suffering from severe stagflation – high inflation coupled with slow or no growth – opposition is building against Morsi and the Brotherhood. If conditions continue to worsen, as they likely will absent a U.S.-backed stimulus injection, the parliamentary elections in April could arrest the trend of electoral victories that has so far put the Brotherhood just shy of an outright majority.
From the Brotherhood's perspective, what's needed is a well-timed distraction from the faltering economy so it can focus its resources on consolidating power.
Morsi is no fool. Numerous analysts have said that the Egyptian President's ability to charm foreign leaders like Kerry is helping the Brotherhood to push back until after the April elections unpopular financial reforms like higher taxes and cuts to energy subsidies being demanded by the International Monetary Fund.
By gift-wrapping an economic aid package that plugs part of Egypt's growing budget deficit in the short term, Kerry is helping to legitimize Morsi and the Brotherhood in the eyes of Egyptian voters; not as reformers with results, but as honey-tongued charmers able to get Americans to finance the rise of an Islamic state.
It doesn't take three decades as U.S. Senator-turned-Secretary of State to realize that's a horrible deal for American taxpayers.