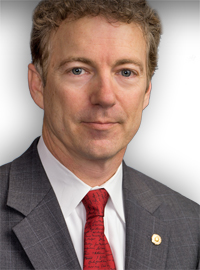 So has Senator Paul shifted with the winds of public opinion? Or has he suddenly developed a more sober foreign policy perspective?
Joe Biden uncloaked his fanciful inner hawk this week in response to escalating butchery in the Middle East, but commentators largely overlooked a tawdry irony in his most highly publicized comment:
"When people harm Americans, we don't retreat. We don't forget. We take care of those who are grieving. And when that's finished, they should know we will follow them to the gates of Hell, until they are brought to justice. Because Hell is where they will reside. Hell is where they will reside!"
Biden's assurance will surely come as news to the families of the four Americans murdered in Benghazi, Libya, and it must have occasioned laughter among the perpetrators.
Meanwhile, a globetrotting Barack Obama oscillated between admitting that "we have no strategy yet" for dealing with the Islamic State advance, to saying that we must "degrade and destroy" it, to then saying that his objective is to make it "a manageable problem." The lion Obama roars.
Obama has demonstrated such poor leadership to date that even leading liberal Democrats now openly criticize him. Senator Al Franken (D - Minnesota) wrote this week, "I was troubled by the President's recent suggestion that the Administration has not yet developed a comprehensive strategy to address the growing threat of ISIL's activities in Syria." Similarly, Senator Diane Feinstein (D - California) said it was "wrong" for Obama to dismiss the terrorists as "junior varsity" earlier this year, and that his response has been "too cautious."
And those are his loyalists.
But the recent behavior of Senator Rand Paul (R - Kentucky) on the other side of the political aisle is perhaps even more noteworthy.
Just one week ago in a commentary for The Wall Street Journal, Paul unleashed a prototypical fusillade against "interventionists" and said, "Shooting first and asking questions later has never been a good foreign policy." Paul triumphantly reminded readers that he had stood "against military strikes" and disparaged "hawkish members of my own party" and "those now calling for war against ISIS," then concluded:
"Those wanting a U.S. war in Syria could not clearly show a U.S. national interest then, and they have been proven foolish now. A more realistic foreign policy would recognize that there are evil people and tyrannical regimes in this world, but also that America cannot police or solve every problem across the globe. Only after recognizing the practical limits of our foreign policy can we pursue policies that are in the best interest of the U.S. The Islamic State represents a thread that should be taken seriously. But we should also recall how recent foreign-policy decisions have helped these extremists so that we don't make the same mistake of potentially aiding our enemies again."
This sort of rhetoric is obviously nothing new for Paul. Just last month, we noted that he betrays a temperamental and intellectual unfitness for the office of president with sloppy commentary like this:
"The knives are out for conservatives who dare question unlimited involvement in foreign wars. Foreign policy, the interventionists claim, has no place for nuance or realism. You are either for us or against us. No middle ground is acceptable. The Wilsonian ideologues must have democracy worldwide now, and damn all obstacles to that utopia."
Naturally, Paul failed to identify anyone who actually advocates such things.
Regardless, Senator Paul seems to have experienced a sudden change of heart. He now thunders, "If I were President, I would call a joint session of Congress. I would lay out the reasoning of why ISIS is a threat to our national security and seek congressional authorization to destroy ISIS militarily."
So what explains this transformation? A heart-to-heart discussion with his fellow Senators Ted Cruz (R - Texas) and Marco Rubio (R - Florida)?
Or was it a recognition of the rapid shift in public opinion on the issue?
In the span of just one month from July to August of this year, Americans have reversed course in answering the question, "Do you think the U.S. has a responsibility to do something about the violence in Iraq?" In July, 39% replied "yes" while 55% replied "no." Now, 44% answer "yes" while 41% say "no." When asked about Obama's foreign policy, 54% now say he's "not tough enough," compared to just 36% who say "about right" and 3% who say "too tough." And in the same poll, 48% of Americans believe that the U.S. plays a "less important and powerful role than 10 years ago," compared to just 15% who believe our role is "more important and powerful than 10 years ago."
Even more saliently, 46% of Republicans now say that the U.S. "does too little" in solving global problems versus 37% who say "does too much." That represents an extreme reversal from less than one year ago, when just 18% of Republicans said "does too little" compared to 52% who replied "does too much."
So has Senator Paul shifted with the winds of public opinion? Or has he suddenly developed a more sober foreign policy perspective?
Only he is capable of honestly answering that question. But it's a remarkable change of tune for a man who went to such efforts to corner the isolationist market as 2016 approaches.