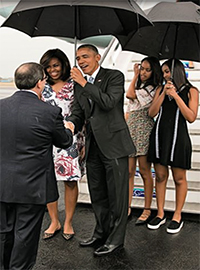 What must go through the mind of a man or woman sitting in a wretched Cuban prison simply for speaking out against this tyrannical regime, as he or she looks beyond the barred window to see Air Force One descending?
For American presidents, overseas appearances provide trademark moments that symbolize them and cement their legacies, particularly visits during the autumn months of their presidencies.
For John F. Kennedy, perhaps no moment better captured his vibrancy and Cold War steadfastness than the "Ich bin ein Berliner" speech in a Berlin that had only recently been divided by the Soviets' wall.
Nearly a quarter-century later, as that Berlin Wall and a divided Europe entered their final days, Ronald Reagan boldly and defiantly demanded that his Soviet counterpart Mikhail Gorbachev "tear down this wall."
And then there is Barack Obama.
As twilight descends on his own presidency, Obama's legacy may have been captured by not one, but two tragic images from his visit this week to the oppressive communist island prison.
The first image would be his solemn, respectful, even obsequious pose beneath an enormous, menacing mural of Fidel Castro's murderous accomplice Ernesto "Che" Guevara. For the nation's first black president to stand dwarfed below such an openly racist demagogue cast a particular stroke of humiliation upon himself and the nation he represents.
The second image came at the end of a joint press conference with current Cuban President Raul Castro. The two men beamed together in a way that immediately contrasted with Obama's moments with Israeli Prime Minister Benyamin Netanyahu, an actual friend of the United States. As they exited the stage, Castro forcefully grabbed Obama's arm and lifted it, limp-wristed, above his head as if a puppet. For anyone who thought an image of Obama's weakness and subservience could not be captured better than the multiple times he literally bowed before foreign leaders, it is a moment that must be witnessed to be believed and fully appreciated.
Unsatisfied with those self-degradations, Obama proceeded to deliver a speech reciting his stale list of American moral transgressions to an audience all too pleased to receive them. The fact that Obama said such things a short time after Islamic terrorists slaughtered dozens in Brussels rendered his behavior even more despicable.
Obama's defenders, and even some on the libertarian/conservative right who favor rapprochement with Cuba, contend that his trip constitutes part of a broader campaign to open and ultimately liberalize the island prison.
Respectfully, however, where is the evidence to support those expectations? Although Cuban leaders and their fellow-travelers scapegoat American trade restrictions for all that ails Cuba, the fact is that the most of the world, including the developed nations of Europe and Canada, have continued to trade with them for years. Moreover, humanitarian U.S. aid has always been permitted. Accordingly, contentions that unrestricted American trade will somehow provide a magic elixir to turn Cuba into Switzerland doesn't accord with the available evidence.
Conversely, however, think of the negative effect that Obama's trip must have on freedom fighters both within and outside of Cuba.
What must go through the mind of a man or woman sitting in a wretched Cuban prison simply for speaking out against this tyrannical regime, as he or she looks beyond the barred window to see Air Force One descending? What does it say to political prisoners or potential activists in places like Iran, where Obama commenced his presidency by turning his back on their uprising?
And what message does Obama send to the North Koreans, Syria's Assad, Russia's Putin, Chinese militants or other assorted despots across the globe, when continued defiance and malfeasance not only receive no punishment of consequence from his administration, but actually bring even more concessions and fealty?
The simple fact is that Obama's foreign policy is one of much gain and little pain for America's enemies, but great pain and little gain for America's friends. At the very least, Obama could have insisted upon full and unconditional release of Cuba's political prisoners, as well as satisfaction of legal judgments against the Cuban regime for kidnapping and murder of U.S. citizens.
In a tragically fitting gesture, Obama concluded a day that witnessed massacre in Europe and capitulation in Cuba with a trip to sit beside Castro at an exhibition baseball game. When confronted about the optics, Obama replied, "The whole premise of terrorism is to disrupt people's lives."
Yes, Mr. President - the terrorists slaughtered dozens in remote Brussels in order to interrupt one of your golf outings or spectator appearances.
Then off he went with Mr. Castro.