By Byron York
Thursday, March 01 2018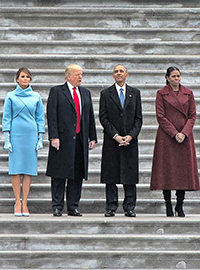 The problem could be that some Trump critics appear to think of Russia only in terms of countering online election interference. They don't seem to think that real, physical-world actions, like blowing up Russian mercenaries and building new missiles and bombs, constitute a tough policy toward Russia.
Recently, President Trump tweeted, "I have been much tougher on Russia than Obama, just look at the facts. Total Fake News!"
The tweet was greeted with incredulity in some press circles. CNN called it "simply false." "The facts suggest the opposite," said the Washington Post. "Mostly false," declared Politifact, noting the president's statement "immediately drew guffaws among media commentators."
The reaction left some Republican national security and foreign policy hands shaking their heads. How could one add up the actions that Trump has taken on Russia, compare them to Obama, and conclude that Trump was not tougher?
In a text exchange, I asked one GOP lawmaker: If you believe Trump has been tougher on Russia, what is the best evidence? He quickly came back with a list. The U.S. is, he said:
1) Bombing Syria, Russia's main client, and generally unleashing the U.S. military in Syria, including against Russians when necessary.
2) Arming Ukraine.
3) Browbeating NATO allies to increase defense spending.
4) Adding low-yield nukes to our arsenal.
5) Starting research and development on an INF non-compliant missile.
6) Shutting Russia's San Francisco consulate.
To clarify some of the less-obvious references, on the "arming Ukraine" front, the lawmaker noted the Trump administration's decision to supply Ukraine with Javelin anti-tank missiles. (The Washington Post called Trump's decision "a worthy application of the 'peace through strength' principle'" that will help Vladimir Putin understand that "his aggressions ... will be resisted.")
The "low-yield nukes" reference is to developing a new generation of (relatively) small nuclear weapons that, The New York Times noted, "advocates say are needed to match Russian advances."
The "INF non-compliant missile" refers to U.S. work on a new missile that does not comply with the Intermediate-Range Nuclear Forces Treaty and is "a direct response to Russia's deployment in recent years of its own treaty-busting missile," according to Time magazine. (Time added that, "The Obama administration worked unsuccessfully to persuade the Kremlin to stand down the program.")
The items on the list were all solid, hard-edged measures designed specifically to push back against Russian aggression.
So why do so many believe Obama was tougher on Russia? It wasn't that Obama took a harder line against Russian adventurism; just the opposite. "Under President Obama, Vladimir Putin hardly had reason to fear that anyone would push back on anything," John Bolton, the UN ambassador under George W. Bush, noted recently.
But some journalists cite the measures the lame-duck Obama took in December 2016 in retaliation for Russian attempts to influence the presidential election as a case-closed argument that Obama was tougher. "Thirty-five diplomats were expelled," explained CNN's Tom Foreman. "They imposed sanctions on Russian businesses and agencies that were involved, and they closed two Russian compounds here in the United States. ... You can certainly say Barack Obama could have been tougher, but any evidence that Donald Trump has been tougher than him, no, there is none. The statement is simply false."
Yes, Obama's December 2016 actions were actual punitive measures. But it's hard to compare them to the lawmaker's list of Trump actions — including, for example, U.S. forces killing at least 100 Russian mercenaries in Syria recently — and say Obama was the president who was harder on Russia.
The problem could be that some Trump critics appear to think of Russia only in terms of countering online election interference. They don't seem to think that real, physical-world actions, like blowing up Russian mercenaries and building new missiles and bombs, constitute a tough policy toward Russia.
It's an attitude that baffles some Republicans. "Sending Javelins to Ukraine and bombing that Syrian airfield is a bigger deal than virtually anything we could do to the 'troll factory,' the GOP lawmaker said, referring to the Russians who created politically divisive Facebook ads and posts during the 2016 election season.
"Reporters live on Twitter and seek validation from it," the lawmaker continued. "They thus give outsized influence to it over, you know, real ordnance."
They also, perhaps, give outsized influence to what the president says, or does not say, without weighing it against the administration's actions. So when Trump refuses to condemn Putin, or give him a mocking nickname, some journalists see that as the president being soft on Russia, even as U.S. munitions hit Russian targets in Syria.
In addition to the real-world stuff of missiles and bombs, other officials say the U.S. is also taking extensive action to counter the kind of Russian activity seen in the 2016 election.
"We have a significant effort," CIA director Mike Pompeo said in a recent Capitol Hill hearing. "And it is not just our effort. It is a, certainly, all-of-intelligence-community effort — there may be others participating, as well — to do our best to push back against this threat. ... It's a big, broad effort."
The problem was that Pompeo could not speak publicly about efforts that are highly classified to keep Russia in the dark about U.S. actions.
"I don't want to state the obvious, but we don't tell them what we're doing," Rep. Devin Nunes, chairman of the House Intelligence Committee, said in a recent phone conversation. "It's classified."
"During the Obama administration, millions and millions of intelligence dollars to combat our adversaries, including Russia, went unspent," Nunes added. "I can tell you today that Pompeo and others are using all that money."
That said, there are Republicans who would like to see the Trump administration be tougher still on Russia. Long before the 2016 election, they urged Presidents Bush and Obama to take a harder line against Putin. There is still much that President Trump could do.
But when it comes to comparing Trump and Obama, those Republicans ask that Americans look at the whole picture, and not just a fight over Facebook ads.

---
Byron York is chief political correspondent for The Washington Examiner.
COPYRIGHT 2018 BYRON YORK