By Byron York
Thursday, June 14 2018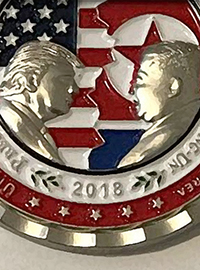 Put it together, and what seemed to some critics like a reckless strategy worked - or worked enough to pressure the North Koreans into at least temporarily stopping their provocations and wanting to talk.
Reaction to President Trump's summit with North Korean dictator Kim Jong Un has broken down along the usual Trump-anti-Trump divisions. The truth is, it will take a while before it's clear whether the summit achieved anything or not.
But give the president credit for trying a new approach to an intractable problem.
Trump had no electoral mandate on North Korea. Despite the oversized role it has played in his presidency, the issue of Kim Jong Un did not come up much in the 2016 campaign. It was rarely discussed in the GOP primary debates and wasn't a factor in the Trump-Clinton general election debates.
Even when it did come up, the discussion could be pretty unedifying, as when rival GOP candidate Sen. Marco Rubio compared candidate Trump to Kim. "You have a lunatic in North Korea trying to get access to nuclear weapons," Rubio said in February 2016. "We have a lunatic in America trying to get hold of them, too."
To the extent that he had a position on North Korea, Trump's was that he would be willing to hold direct negotiations with Kim. While he said he would not travel to North Korea to see Kim, and would not honor him with a White House dinner, Trump made clear he saw benefit in talking to the North Korean leader.
"I would speak to him," Trump said in May 2016, shortly after effectively clinching the Republican nomination. "I would have no problem speaking to him."
Of all the controversial proposals that Trump made during the campaign — that wasn't one of them. And that was because of the long record of failure of talks between the U.S. and North Korea. What was wrong with suggesting a new approach to a problem no other president had been able to solve?
The problem was, North Korea became a front-burner issue almost immediately after Trump took office, when Kim began a series of provocative acts to test the new president. On Feb. 12, 2017, North Korea tested a new ballistic missile. On March 6, it fired four ballistic missiles into the ocean near Japan. On April 5, it fired another missile. On April 16, another missile. On April 28, another. Later, there was a nuclear weapons test. And so on.
In response, Trump came up with something called "maximum pressure and engagement." He imposed sanctions on top of the sanctions that have long been in place against North Korea. He made more progress than previous administrations in enlisting China to help. And he made military plans.
Have you heard people say war is not an option in North Korea, or that it is unthinkable? Trump started thinking about it. His top military officers worked through a number of scenarios for war on the Korean peninsula. And while they were doing it, Trump escalated his anti-Kim rhetoric to unheard-of levels. Kim was "Little Rocket Man," and North Korean aggression would be "met with fire, fury, and frankly power, the likes of which this world has never seen before."
Trump later explained he did it because he believed the old way had not worked. "Other administrations ... had a policy of silence," he told Fox News' Sean Hannity after the summit. "That's not the answer. That's not what you have to do. So I think the rhetoric — I hated to do it, sometimes I felt foolish doing it — but we had no choice."
So while Trump bellowed threats, his administration quietly planned to make good on those threats, if it came to that.
Put it together, and what seemed to some critics like a reckless strategy worked — or worked enough to pressure the North Koreans into at least temporarily stopping their provocations and wanting to talk. And when, after the talks were on track, the North Koreans resumed their provocative statements, Trump abruptly canceled them — and the North got back on board.
So now the talks have happened, and North Korea has agreed — much like it has in years past — to denuclearize. Critics rightly point out that Kim and his predecessors never kept their promises before. On the other hand, these talks were the result of a series of events unlike those in the past.
Maybe Trump's plan will work. Maybe it will work a little and not work a little. Or maybe it will fail altogether. But it's the result of a president re-thinking a problem that desperately needed a new approach.
---
Byron York is chief political correspondent for The Washington Examiner.
COPYRIGHT 2018 BYRON YORK