By Troy Senik
Thursday, June 24 2010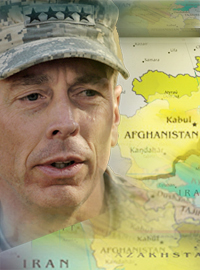 Many of the general's colleagues have pronounced this week that if anyone can pull this mission off, it's David Petraeus. That may be true. But time may prove the futility of being the best man for an impossible task.
There are no indispensable men in American life. That is one of the many lessons surrounding the downfall of General Stanley McChrystal, who up until earlier this week was serving as the commander of American forces in Afghanistan. Another lesson? If you have designs on being an indispensable man, make sure that there's not someone even more indispensable who's able to do your job at a moment's notice.

In one of the most cunning moves of his presidency, Barack Obama diffused the scandal surrounding McChrystal's disparaging remarks about the administration's handling of Afghanistan by accepting McChrystal's resignation and appointing General David Petraeus – who, after his turnaround of Iraq, is the closest soldier America currently has to a national hero – to take over command of the war effort.

The move is highly unorthodox. With Petraeus serving as the Commander of U.S. Central Command – responsible for virtually the entire Middle East and a huge swath of Central Asia – narrowing his focus to the Afghan theater is technically a demotion. But it's one that works on several levels.

First, Obama avoids the uncertainty that would accompany a new, untested commander. Petraeus already enjoys public support, respect from the military and a command of counterinsurgency that can judiciously be described as superior to McChrystal's; Petraeus did, after all, literally write the book on the subject.

Second, it allows Obama to demonstrate his resolve as Commander-in-Chief. Dr. Eliot Cohen, whose book "Supreme Command: Soldiers, Statesman, and Leadership in Wartime" is among the finest ever published on the topic of civil-military relations, had it precisely right earlier this week in the Wall Street Journal:

"It is intolerable for officers to publicly criticize or mock senior political figures, including the vice president or the ambassador (who is, after all, the president's personal representative to a foreign government). It is intolerable for them to publicly ridicule allies. And quite apart from his own indiscretions, it is the job of a commanding general to set a tone that makes such behavior unacceptable on the part of his subordinates."

Third – and perhaps most cannily – Obama has managed to serve his own political interests at the same time that he's securing the nation's strategic imperatives. There is no potential candidate for the presidency in 2012 who inspires as much fear from the Obama crowd as Petraeus himself. Now the general has much deeper equity in the president's war. And walking away from the front lines in Afghanistan for a bid at the White House is a much more acidic way to start a campaign than leaving Central Command's air-conditioned Tampa headquarters.

Yet for all its tactical brilliance, the change at the top may prove to be strategically meaningless. McChrystal's dismissal tamped down a media blitzkrieg, but it did nothing to abate the stress fractures that caused the general's complaints in the first place.

When Petraeus takes the reins in Afghanistan, he'll still have to deal with fractious leadership in Washington – Obama, Vice President Joe Biden, Secretary of State Hillary Clinton and Secretary of Defense Robert Gates – and in Kabul – U.S. Ambassador Karl Eikenberry, Special Envoy Richard Holbrooke and, not least, Afghan President Hamid Karzai. Among this group, there are seemingly as many positions on the war as there are principals.

He'll still be stuck with a timeframe that calls for a troop drawdown to begin only about a year from now – a provision that acts as an accelerant for Afghan resistance.

And finally, Petraeus, the counterinsurgency guru par excellence, will still be left with a country where the preconditions of his doctrine – a stable political partner, adequate troop strength and copious reserves of time – appear sorely lacking.

Many of the general's colleagues have pronounced this week that if anyone can pull this mission off, it's David Petraeus. That may be true. But time may prove the futility of being the best man for an impossible task.