By Troy Senik
Tuesday, May 03 2011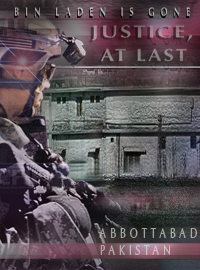 Celebration cannot yield to naïveté. Bin Laden is gone, but he has not taken Al Qaeda with him.
Osama Bin Laden is dead. And there isn't much more to the story than that.

In an era when media outlets proliferate like rabbits and around-the-clock coverage tends to showcase journalist endurance rather than journalistic insight, an important lesson is often lost: The greatest stories are often the simplest.
No matter how many hours cable news anchors spent on Sunday night rehashing the story of the terrorist mastermind's demise, they never had any greater impact than in the initial moment when they announced his expiration. Geraldo Rivera's feelings on the matter were beside the point (as are his feelings on virtually everything). Cosmic justice was meted out. That, in one sentence, was the story.

For the few Americans unable to bask in the Manichean splendor of the outcome, there were, as a matter of course, second guesses. Bin Laden died a martyr, they said, achieving in his departure the immortality of noble death. But if this be nobility, let us have more of it.

Begin with the fact that the true martyr embraces his fate. He does not cower in the shadows for a decade, using his juniors as cannon fodder for the global jihad while he issues an occasional videotape. Definitions of martydom can vary; none includes not having the courage to die.

Follow with the particular circumstances of Bin Laden's last days. He had taken up residence in a Pakistani home alternately described as a "mansion" or a "well-appointed villa" – far from the image of noble poverty he sought to cultivate. But by the standards of the western world he saw as inferior, it was nothing more than the most architecturally creative property in the local slum. Such is the life of a lord of the flies.

There was also the revelation, issued by counterterrorism advisor John Brennan at a Monday press conference, that Bin Laden used a woman as a human shield in his final moments. It is often said that men only show their true character in the moment of their deaths. If that's the case, the world witnessed not only a coward but a man whose paens to the superiority of his gender withered in the face of American firepower. So indeed, he lived as he died: bathed in weakness and hypocrisy. Oh, well. Every Hitler must have his Eva.

Some have already cautioned about the moral perniciousness of being jubilant over a death – true as a general matter, but not in this case. We should weep no more here than we would at the death of a cancer cell.

But celebration cannot yield to naïveté. Bin Laden is gone, but he has not taken Al Qaeda with him. The organization remains strong in Yemen, Somalia, Iraq and North Africa, amongst others. And Bin Laden's death also reminds us of just how intemperate the climate is amongst our fair-weather friends in the War on Terror. Consider: Pakistani officials were not notified of the operation until its completion, despite the fact that American forces were opened up to the prospect of attack as a result. The only calculation that could justify such a risk? That elements within the Pakistani government may have tipped off Bin Laden if they had the relevant intelligence.

Such is the world we now inhabit. It is better off for not having Bin Laden. But if it is any less dangerous, it is so only at the margins. This is, as Churchill said in a moment of similar import, "not the end. It is not even the beginning of the end. But it is, perhaps, the end of the beginning."