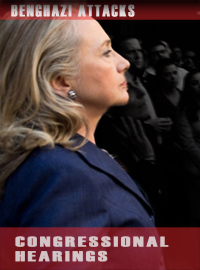 This week's Congressional hearings on the Benghazi attacks may finally put [Hillary Clinton's 2016] 'inevitability' to permanent rest.
Well, we've finally settled on that elusive Clinton Doctrine: "We leave our diplomats and soldiers behind."
Or, alternatively, "What difference does it make?!" Unfortunately for Clinton, it translates to a potentially devastating blow to whatever 2016 presidential aspirations she had.
Hillary 2016, we hardly knew ye.
In January, Mrs. Clinton stepped down as Secretary of State to a chorus of synthetic praise. But ask any among her legions to identify a single doctrine that will bear her name in future decades, or any substantive achievement during her tenure, and you'll receive a blank stare. She certainly logged a record number of frequent-flier miles, but has little to show for it. Recall that she even managed to bungle the word on the Russian "Reset" button.
Despite that, Barack Obama casually labeled her "one of our finest Secretaries of State," and Nancy Pelosi fawned this week that "she'd be the best-qualified person that we've seen" while proclaiming, "Hillary Clinton should run for President." That must come as a shock to potential 2016 rivals Joe Biden and John Kerry. After all, each of them served far longer in the Senate than Clinton, and will have matched or exceeded her executive branch resume by then.
Nevertheless, polls and conventional wisdom have elevated her to inevitable 2016 status. The truth, however, is that Hillary's inevitability has always proven about as accurate as predictions of Brazilian superpower status or soccer finally becoming America's dominant sport. She was "inevitable" in 2008, but it's no accident that her own party rejected her in favor of an upstart who hadn't even served one term in the Senate.
This week's Congressional hearings on the Benghazi attacks may finally put that "inevitability" to permanent rest.
Among other damning revelations, we heard why murdered U.S. Ambassador to Libya Christopher Stevens was in Benghazi in the first place. According to the sworn testimony from Gregory Hicks, the second-ranking U.S. official in Libya, Clinton herself wanted him to pay it a visit. Apparently, she wanted a permanent post in that city as a symbol of American goodwill, and Stevens said he would "make it happen." Keep in mind that the Benghazi threat level had been rising for some time, and Clinton's own State Department had rejected security upgrade requests.
Whether Clinton denied those requests or was personally aware of them remains unresolved. At a minimum, however, this demonstrates that she was reckless and incompetent in managing the theater and the officials for whom she was responsible.
We also learned that Clinton was briefed on the night of the murders, and specifically informed that it was a terrorist attack. Mr. Hicks unequivocally testified that he never mentioned any political demonstration outside the Benghazi compound, and certainly never mentioned anything about a YouTube video. Nevertheless, Clinton joined the rest of the Obama Administration in scapegoating the obscure video in the midst of Obama's reelection campaign. In fact, she did so the very next day despite what she'd been told the night before.
"I was stunned, my jaw dropped and I was embarrassed," Mr. Hicks said in describing his reaction when Obama and his Administration claimed that the attack grew out of a protest.
Hicks further testified that he was demoted after raising questions regarding the Administration's behavior and statements to the American public. "I've been effectively demoted from deputy chief of mission to desk officer," he noted. Throughout the investigation, he added, he was instructed by Clinton deputy Beth Jones against providing an interview to Congressman Jason Chaffetz (R – Utah), who was leading the investigation for the House Government Oversight and Reform Committee.
Beyond the injustice toward Mr. Hicks or the Administration's dishonesty to the American people in the midst of an election campaign, the matter did "immeasurable damage" to American foreign credibility. Libya's new President had correctly and publicly identified the Benghazi attack as terrorism, so statements by Clinton and the Obama Administration blaming the YouTube video constituted an insult. "His credibility was reduced," Mr. Hicks testified, "and I definitely believe that it negatively affected our ability to get the FBI team quickly to Benghazi."
It's possible that Clinton's behavior can be ascribed to incompetence. If that's the case, however, it undercuts her primary calling card throughout her political career. The more sinister scenario is that Clinton herself was the causal actor in some or all of these actions. She and her husband have managed to escape political fatality time and again, but that has led to the infamous "Clinton Fatigue" that exhausts even their supporters.
Democratic pollster Doug Schoen concedes that this will trail Hillary into 2016 if she decides to run, and keep in mind that since 1948 only one President has seen his party retain the White House for a third term – Ronald Reagan.
She suddenly appears about as inevitable as she proved in 2008.