By Troy Senik
Thursday, October 14 2010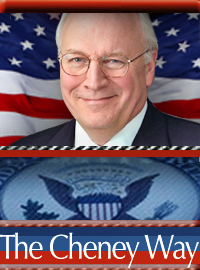 In the eyes of his detractors, Cheney's great crime seems to be his tendency to present his views forthrightly and without reference to the pieties of political correctness.
"Dick Cheney is out of the hospital and back to raking in money defending torture and pre-emptive war" – that was the get well card inserted into a New York Times column earlier this week by Maureen Dowd. This isn't exactly novel treatment for the former vice president.

When asked to respond to Cheney's foreign policy views during a 2009 television interview, liberal Florida Congressman Alan Grayson responded "I have trouble listening to what he says sometimes, because of the blood that drips from his teeth while he's talking." When Cheney eluded an assassination attempt in 2007, comedian Bill Maher was chagrined, telling his television audience, "I'm just saying if he did die, other people, more people would live. That's a fact."

Whether it's the Darth Vader quips or the unapologetic glee on left-wing blogs over Cheney's continuing heart problems, the underlying message is unmistakable: Dick Cheney is evil incarnate.

In the eyes of his detractors, Cheney's great crime seems to be his tendency to present his views forthrightly and without reference to the pieties of political correctness. But what all of these defenders of "mature political debate" seem to miss is that Cheney is a vestige of a woefully bygone era, an era when politicians thought that treating voters like adults began with acting like adults themselves.

That was an era when an American president (the sainted Calvin Coolidge) could develop a reputation for reticence so pronounced that he became known as "Silent Cal" and could say things like "Four-fifths of all our troubles would disappear, if we would only sit down and keep still."

That was an era when Winston Churchill could smoke endless cigars and drink endless brandies without media hand wringing over the example he set for the youth. He could also tell a woman who said she would poison his tea if he were her husband, "If you were my wife, I would drink it."

That was an era when Grover Cleveland could veto a bill subsidizing seed for Texas farmers by saying, "Federal aid in such cases encourages the expectation of paternal care on the part of the government and weakens the sturdiness of our national character, while it prevents the indulgence among our people of that kindly sentiment and conduct which strengthens the bonds of a common brotherhood."

At some point between then and now, politicians lost the conviction that they could act like human beings: that they could show honest anger, piercing wit or unpopular conviction. They lost the Burkean belief in being a steward of the people's well-being and replaced it with the populist notion that they should be joyful everymen.

In limited cases, this has worked. Ronald Reagan, for example, was a joyful everyman. But for every one Reagan, there are thousands of middling politicians who have mutilated their personalities into shapeless blobs, flashing phony smiles, dispensing disingenuous back slaps and kissing babies they won't make eye contact with. If this syndrome has an apotheosis, it may well be Barack Obama, a man who ran for, and successfully won, the highest office in the land by self-consciously fashioning himself as a mass Rorschach test shorn of personality or biography.

In this age of popular disenchantment with the political class as a whole, this trend may at last be fading. Throughout the nation, Tea Party candidates lacking the polish of career politicians are winning over voters on the basis of unvarnished conviction instead of polished mediocrity. Figures like Chris Christie and Mitch Daniels are rising to national prominence by refusing to indulge self-denial over the scope of the nation's fiscal woes. And Dick Cheney – the only vice president in recent history to tackle actual inconvenient truths – is making all the right people mad just by emerging from his hospital room. Long live the adults.