By Ashton Ellis
Thursday, November 11 2010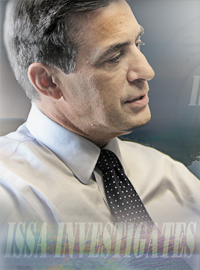 The chairman-to-be of the House Oversight and Government Reform Committee is already pushing ahead with plans to shine a light on liberal overreach.
The official Republican takeover of the U.S. House of Representatives may be two months away, but Rep. Darrell Issa (R-CA) isn't waiting to get started. The chairman-to-be of the House Oversight and Government Reform Committee is already pushing ahead with plans to shine a light on liberal overreach.
Appearing last weekend on Fox News Sunday, Issa said the goal of oversight is "to seek the truth. You know, we're the investigation committee. We're the accountability committee. But (presumptive Budget Committee Chairman) Paul (Ryan, R-WI) can't be effective if the underlying facts and assumptions are not the same. And it's one of the problems we had during the previous two years – was that we couldn't agree on what the facts were, therefore the conclusions were different – each side blamed the other. That's got to end."
Since Issa can't count on government-growing liberals to rein in spending, he can at least direct everyone's attention to the costs and benefits of state intervention.
First up is a meeting with Vice President Joe Biden, President Barack Obama's point man on all aspects of the American Recovery and Reinvestment Act. The Recovery Act was supposed to keep unemployment down by "stimulating" job creation. Instead, unemployment spiked above the promised 9 percent ceiling, and public works projects lose their stimulus funding next month. With the money gone and jobless rate still high, Issa wants to know who profited from all the spending.
He also wants to "finish off" the investigation into the "Friends of Angelo" scandal that involved former Countrywide Mortgage CEO Angelo Mozilo's cozy relationship with Washington politicians supposedly in charge of regulating the housing industry. One of the Angelo's friends turned out to be retiring Senator Chris Dodd (D-CT), whose early exit from office was at least partially influenced by public outcry over a generous home loan from Countrywide when Dodd was chairman of the Senate Banking, Housing and Urban Affairs Committee.
Another Issa agenda item is getting to the bottom of pay-not-to-play political schemes. The Obama Administration's extraordinarily inept attempts to get Democratic Senate candidates like Joe Sestak (D-PA) and Andrew Romanoff (D-CO) to forego challenging incumbents drew criticism from many quarters for impeding democracy. The dangling of federal jobs as enticements gives the discussions the smell of a corrupt bargain.
But digging into the depths of those offers may bring Issa into conflict with some people in the GOP establishment. Very quietly, former Bush Administration officials confirmed similar behavior with Republicans in tight races, making an Issa-led investigation into this gray area of electioneering a potential threat to highlight the bipartisan nature of such back room deals.
That doesn't seem to bother Issa. Calling the problem "an epidemic," Issa thinks now is the time to clear the air about what's been going on behind closed doors so that Congress can respond legislatively. To do that, though, a set of mutually agreed facts need to be known, and that requires extensive investigation.
Ironically, much of Issa's focus as chairman will likely depend on whether the Democratic leadership in the Senate and White House show enough humility to work with Republicans on meaningful reform. Though oversight hearings get the headlines, the other branch of Issa's committee jurisdiction is government reform. Certainly, a rising conservative like Issa is expected to be heavily involved in crafting legislation that reduces waste, saves money and streamlines the federal bureaucracy.
The late Senator Daniel Patrick Moynihan (D-NY) once said that a person is entitled to his own opinions, but not his own facts. With categories such as jobs "created or saved" and statements like "we have to pass the bill so that you can find out what is in it" the Obama-Reid-Pelosi regime has been distorting facts to serve an ultra-liberal agenda. Darrell Issa aims to make the real facts known, one committee hearing at a time.