By Ashton Ellis
Thursday, February 05 2015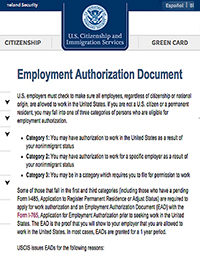 As Republicans in Congress contemplate how to rein in Obama's lawless immigration policy, they should keep in mind that the danger many feared is already occurring.
February is the month Republicans in Congress chose to challenge President Barack Obama's unilateral immigration amnesty.
Instead of holding up the entire federal budget two months ago, GOP leaders decided to pass two bills – one to fund most of the bureaucracy for the next year, another to prop up the Department of Homeland Security only until March 2015.
Originally, the idea was to prohibit the president from spending any money on amnesty, deferred action and whatever other extra-legal devices he could employ to effectively legalize millions of illegal immigrants.
The problem was when to force him to follow the law. Thanks to a resounding midterm election, Republicans had just won control of both houses of Congress for the first time during Obama's presidency. But they didn't have the votes to implement their will because of the lame duck session. After a tense debate, GOP leadership decided to revisit immigration when they were in a stronger position.
As Byron York noted at the time, the budget bill passed by Congress last December included more than 450 iterations of "no funds shall" be spent on anything other than what the legislative body explicitly authorizes.
Congress knows the way to get what it wants. It just needs the will.
A new report released by the Center for Immigration Studies should help them find it.
"Government data reveal that more than 5.5 million new work permits were issued to aliens from 2009 to 2014," says the CIS study. Approximately 1.2 million recipients of new work permits "had a visa status for which employment is not authorized by law."
"In addition, 963,000 new work permits were issued in this time period to illegal aliens or aliens unqualified for admission. Of these, 957,000 were aliens who crossed the border illegally (Entered Without Inspection). Inexplicably, 1,200 new work permits were issued to aliens who were denied asylum, were suspected of using fraudulent documents, were stowaways, or were refused at a port of entry," says the report.
For anyone concerned about the Obama administration's ability – or desire – to keep tabs on foreign nationals, CIS found that, "A huge number of work permits, 1.7 million, were issued to aliens whose status was unknown, not recorded by the adjudicator, or not disclosed by U.S. Citizenship and Immigration Services (USCIS), the agency that processes the applications."
The information in the CIS report was collected via a Freedom of Information Act Request.
The numbers are staggering. The 5.5 million illegal immigrants who have already received work permits from the federal government exceed the projected 5 million illegal immigrants to be given work permits under President Obama's unilateral amnesty.
Not enough data has been made public to determine whether these groups are distinct or overlap.
If they are the same, then Obama's amnesty announcement is little more than an after-the-fact ruse to legitimize what the CIS report characterizes as "a huge parallel immigrant work authorization system outside the bounds of the laws and limits written by Congress."
If they are distinct, then together with the deferred action program Obama is more than halfway home to granting de facto legal status to nearly all of the nation's estimated 11.7 million illegal immigrants.
The release of the CIS report should be a sobering moment for Members of Congress and the American people in general.
As Republicans in Congress contemplate how to rein in Obama's lawless immigration policy, they should keep in mind that the danger many feared is already occurring.
When private employers are caught employing illegal immigrants the federal government comes down hard. If the Obama administration is handing out work permits in violation of the law, Congress should be even more punitive.