August 12th, 2009 9:05 am
Tom Coburn's Health Care Reform
Proponenets of ObamaCare continue to claim that those of us opposed to a government takeover of health care have not introduced a viable alternative.  Senator Tom Coburn (R-OK), however, has introduced The Patients' Choice Act (S. 1099).
The bill would: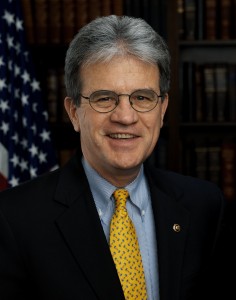 Equalize the tax treatment of health insurance and provides all Americans with a tax credit for the purchase of health coverage and care.
Incentivize States to establish Health Exchanges which would guarantee health coverage to any consumer, regardless of health status, age, or pre-existing condition.
Reduce waste, fraud, and abuse. The Patients Choice Act would change this by using existing data-matching technologies and intelligent payment structures to replace the current "pay and chase" culture with one of "prevent and control" to ensure timely, accurate, targeted payments of taxpayer dollars to providers.
Prevent Tax Increases and prevent higher deficits.
No government-run health care plan. Under the Patients' Choice Act, if you like the health plan you have, you can really keep it.
You can read the bill yourself here.