August 1st, 2014 7:58 am
The Arab-Israeli Conflict: Is Peace Possible?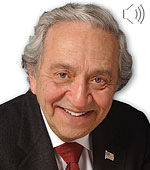 In an interview with CFIF, Bruce Herschensohn, Professor at Pepperdine University School of Public Policy, author and CFIF Board Member, discusses the war between Israel and Hamas, Secretary of State John Kerry's bungled attempt to achieve a cease-fire and President Obama's performance on foreign policy issues.
Listen to the interview here.