May 17th, 2016 at 11:04 am
Welcome to the Age of Asymmetrical Regulation
We are fortunate to live in what many have called the "Golden Age of Television," a time when an explosion of creativity and innovation have collided to create more audience choice than ever before.
In light of that, the Federal Communications Commission's (FCC's) recent decision to "Unlock the Box" with their "AllVid" proposal seems especially puzzling.  Upon further reflection and considering the bigger picture, however, the misguided AllVid proposal regarding technology that is already antiquated and will soon  be entirely irrelevant is merely the most recent in a string of illogical and counterproductive proposals from the current FCC.
From the so called AllVid proposal to the FCC's Privacy proposal, it is evident that we live not only in the "Golden Age of Television," but also in the "Age of Asymmetrical Regulation." Current regulations impose one set of rules upon incumbents in the telecommunications industry and another set of rules entirely for so-called  "edge" providers like Google. In fact, regulation under this FCC seems to deliberately create a crony capitalist environment where incumbents can't compete and the edge providers alone can thrive.
Equally troubling is the abnormally notoriously close relationship between Google and the White House, a partnership that was extensively detailed in a recent piece in The Intercept. Not only did Google's top lobbyist visit the White House 128 times, but during the company's annual State of the Union YouTube interviews with the President, Google is reported to have planted questions on policy issues important to Google on at least 3 occasions. That conspicuous degree of access and flagrant favoritism suggests that it has contributed to the severely asymmetrical regulation that we continue to witness from this FCC.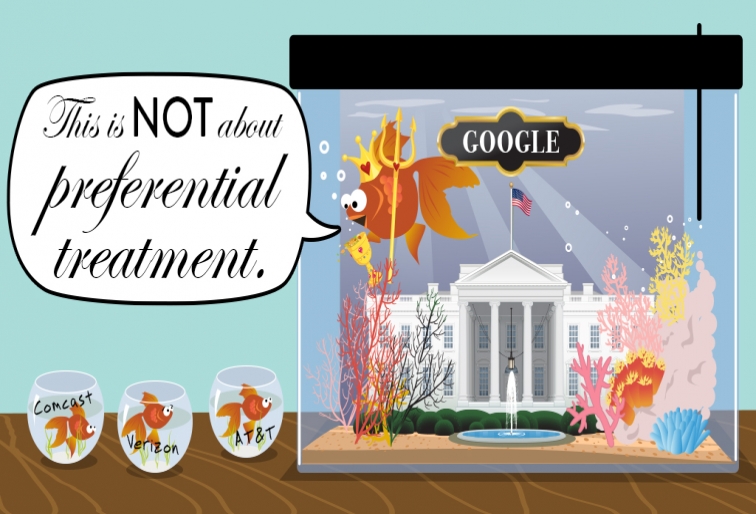 Again and again we have seen examples of this type of successful rent-seeking behavior from Google, and their ilk, and the remedy is clear: the FCC must stop its transparent favoritism and heavy-handed regulation of the telecommunication incumbents.  Instead, it should focus on maintaining a level playing field. Regulating based on crony capitalist bias and personal friendship is not only wildly inappropriate, but also a recipe for interventionist disaster. Continuing to disproportionately impose destructive regulations on the telecommunications for the benefit of other favored sectors not only violates the rights of disfavored enterprises, it ultimately serves to stifle competition and innovation for years to come in same the way that all government interventions into the free market tend to do.