July 14th, 2016 at 9:36 am
Does a VP Pick Matter?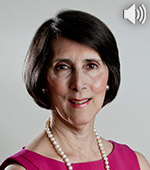 In an interview with CFIF, Karlyn Bowman, Senior Fellow and Research Coordinator at the American Enterprise Institute, discusses the vice presidential chatter on both sides of the political aisle and whether it is possible for a vice presidential pick to help a presidential campaign.
Listen to the interview here.